The Return of Henry Grimes: A Memoir
Steven L. Isoardi
The value of information does not survive the moment when it was new.
It lives only at that moment.... A story is different; it does not expend
itself. It preserves its strength concentrated within itself and is capable of
releasing it even after a long time.
—Walter Benjamin [1]
Introduction
In Los Angeles, California during the early months of 2003, I was fortunate enough to witness the re-emergence, after an absence of almost thirty-five years, of an extraordinary musician, bassist Henry Grimes. Through a remarkable series of events, one of the finest artists in jazz made the decision to play again. He was embraced and supported by a varied group of people, and, almost from the first, proceeded to astonish us with his undiminished artistry. As I watched this unfold, the story took on many other dimensions, including supportive communities coming together and the power of music as a positive influence on the lives of young people. For me, and I think everyone involved, it was a wonderfully moving experience.
Given its significance, both personal and historical, and before events receded too much into the past, I decided to write a reminiscence of this uplifting moment. What follows is not a definitive account of Henry's return to the world of jazz performance. It offers no pretense of completeness. No interviews were conducted; no additional research carried out. I did not see the New York City side of the story. This is simply a memoir of what I witnessed in Los Angeles and the minor role I played, relying solely on my memory and the contents of the file I kept at the time, including notes, articles, e-mails, photographs, audio cassette and video tapes. If a more complete account is ever written of Henry's career by him or a biographer, perhaps this small testament will be of some use.
Part 1
One January afternoon in 2003, a sixty-eight-year-old musician enjoyed a typically full, high-calorie meal at The Pantry in downtown Los Angeles with two high school students. The restaurant was and remains an L.A. landmark with lines routinely forming in the morning hours for traditional American fare. When I was studying wind instruments with jazz artist and master teacher Bill Green in the late 1980s, sometimes lessons would conclude with late morning breakfasts at The Pantry. Bill had arrived in L.A. and become part of the Central Avenue music scene after World War II and he had always maintained a connection with and fondness for his old downtown haunts.
On this January afternoon the sexagenarian musician was renowned jazz bassist Henry Grimes, one of the most stunningly original artists to emerge in the 1950s. Studies in jazz bass were paired with work at the Juilliard School of Music in New York, where he was mentored by Philharmonic bassist Fred Zimmermann. By the mid-1960s he had performed with Albert Ayler, Miles Davis, Benny Goodman, Coleman Hawkins, Lee Konitz, Thelonious Monk, Gerry Mulligan, Sonny Rollins, Pharoah Sanders, and Archie Shepp, a veritable who's who of jazz—and this is actually a short list just to suggest the range of his playing. It seemed that practically everyone of any worth in the music wanted Henry in their bands. Though 1967 witnessed the death of John Coltrane, it also saw the release of a spate of exceptional LPs, recorded during the previous fall, that dramatically advanced the horizons of jazz: Cecil Taylor's Unit Structures and Conquistador, Don Cherry's Symphony for Improvisers, and Pharoah Sanders's Tauhid. The bassist on each of these recordings was Henry Grimes. Within a year he would relocate to San Francisco, and then in 1969 to Los Angeles. The last time anyone in the jazz world saw or heard of Henry was in 1970, and over the next thirty years his passing was assumed in jazz reportage.
The student who arranged the meeting at The Pantry was Nick Rosen, a seventeen-year-old senior at The Oakwood School in North Hollywood, and a student of mine. After a troubled youth, provoked by the sudden death of his father when he was nine, Nick had made music a serious part of his life during his tenth grade year and, perhaps for the first time, was pursuing something positive with a passion. When I first noticed him during his middle school years, he displayed so much unfocused and negative energy that there seemed little chance of him surviving the rigors of such an academically demanding school, let alone having stable teen years. As luck would have it, Nick was placed in my ninth grade social studies class the following year. By this time he had started playing electric bass, intrigued by the punk and indie rock worlds. At some point during that year, I told him that if he was ever serious about studying music, I would arrange for him to meet a great teacher. A few months later, at the beginning of his tenth grade year, he told me that he wanted to pursue music seriously, and I put him in touch with bassist Roberto Miranda, a Los Angeles musical treasure, particularly adept at enhancing an artist's creativity.
Over the next few years, Nick continued to struggle with emotional issues, but he also threw himself into his music studies, started playing stand-up bass, and listening to Roberto's recorded collaborations with pianist Horace Tapscott and the music of the Pan Afrikan Peoples Arkestra. He accompanied me to sessions in Leimert Park and, at the age of fifteen, played his first gig in South Central L.A. at the now-defunct Aroma Café with Arkestra saxophonist/flutist Dadisi Komolafe, whose LP Hassan's Walk had made a profound impression on him. During the fall of his junior year, 2001, Nick took my course in African American Music and Society. Of the music we listened to that semester, Albert Ayler's Spiritual Unity had the greatest impact, and he told me that as his senior project he would like to meet and perhaps take a lesson with someone who had played with Ayler. His first choice was the great bassist Henry Grimes. It was my sad duty to inform him of what the jazz world thought it knew—that Grimes had passed away during the 1980s. We moved on to consider other possibilities for Nick's spring 2003 pre-graduation project.
Part 2
By December 2002, winter break could not come soon enough. Fall semesters are usually busy and this one was no exception. For the previous month it seemed I was continually confronted by stacks of essays and tests to grade. Simultaneously, in what free time I could scrounge, I was trying to finish interviews and shape a structure for what would become The Dark Tree: Jazz and the Community Arts in Los Angeles. [2] My to-be-read stack of books and periodicals was becoming more daunting by the day. When the winter 2003 issue of Signal to Noise: The Journal of Improvised & Experimental Music arrived, I tossed it on top of the heap without even a glance at the cover or contents. A few weeks later, during our winter break and in a more relaxed state, I picked up the magazine and there it was: "Henry Grimes: The Signal to Noise Interview by Marshall Marrotte." I was stunned. He was alive? How could someone of that caliber have simply disappeared for some thirty-plus years? Yet, somehow, Henry had survived and was even close at hand.
During 2002, Marrotte, a social worker and Henry Grimes fan from Georgia, had embarked upon a quest to discover the last resting place of the bassist. Instead, after much searching, he found Henry living in a single room—#335—at the Huntington Hotel, 752 Main Street, in downtown Los Angeles, just on the boundary of L.A.'s homeless city-within-the-city encompassing some of the meanest streets in the state. For the past thirty or so years, the bassist had led a marginal existence, punctuated by occasional periods of homelessness, surviving through janitorial, construction, and day labor work. The bass had been sold long ago, and Henry's last memories of the music world dated from the late 1960s. He did not know what a CD was and he was unaware that many of his fellow artists, including Albert Ayler, had died. The interview concluded with a note from Marrotte asking those who might assist Henry to call his home in Georgia. [3]
I rang Nick immediately. "You won't believe this. Not only is Henry Grimes alive, but he's living in downtown Los Angeles." After recapping the interview, I passed on Marshall Marrotte's number. Within an hour, Nick called back. "I've been on the phone with Marshall. He gave me Henry's address and the desk number at the hotel—they don't have phones in the rooms." For the next two weeks, he called the Huntington Hotel desk every day, leaving messages, asking the desk staff to make sure Mr. Grimes received the messages, and then pleading with them to post the messages on Henry's door. Finally, around the end of January, Henry called Nick and they arranged to meet for lunch. Before they met, Nick and I talked about the meeting, and I remember cautioning the ever-exuberant and excitable student not to push Henry too hard with questions. After reading Marrotte's article, it was clear that Henry's disappearance was not simply a lifestyle choice, but driven by personal issues, and that this was something Nick had to keep in mind, respecting whatever place it was that Henry now occupied.
Lacking transportation, Nick enlisted the help of another musically inclined friend, sixteen-year-old junior Andrew Schneiderman, who had a driver's license and a car. The two met Henry at the hotel and then went to lunch. Late that afternoon Nick called. They had sat for a few hours at The Pantry, eating and talking about music, artists, Henry's life and career, and his desire to start playing again. If Henry's memory of the people and places in his past history was dim, his passion for the music and his physical appetite were both voracious. Artists and supporters in New York had already begun to rally to Henry's support, and a few weeks earlier a bass had arrived, provided by renowned musician William Parker. Henry had started playing again, but told the boys, "I just want to play free." Given Nick's increasing avant-garde and free jazz proclivities, he was excited and, with Henry's permission, wanted to do what he could to assist his return to music. We discussed arranging a session with some of the finest musicians in the area.
Enthused about the music, excited by the world of jazz, and too young and inexperienced to know or worry about what he could or could not do, Nick just charged ahead to meet the need. This was evolving as one of his defining features. He made things happen. Two years earlier, Nick and another musical collaborator, one year younger, alto saxophonist Joey Dosik, were searching for ways to hear, meet and, perhaps, even sit-in with some of the musicians they admired in Los Angeles. Their solution was to sponsor evening jazz concerts at The Oakwood School and to invite many of these artists to perform. Of course, Nick would also ask if some of the students could sit-in on one or two pieces. Over a period of some eighteen months, and with the support of our principal, Jerry Goren, they sponsored bands on campus that included vocalist Dwight Trible, cornetist Bobby Bradford, trumpeter Steve Smith, saxophonists Arthur Blythe, Vinny Golia, Michael Session, and Jesse Sharps, trombonist Michael Vlatkovich, pianists Nate Morgan and Larry Nash, bassists Roberto Miranda and Trevor Ware, and drummers Alex Cline and Sonship Theus, among others. And Nick and Joey sat in with each band that came through. They just went for it.
After discussions with Henry, Nick went about setting up a jam session for Sunday evening, 9 February 2003, in the front room of his mother's home in Van Nuys. I fed him the names and numbers of local musicians and he followed up with phone calls. Some of the initial contacts balked because of previous engagements, but he soon filled out an outstanding ensemble. Reed master and bandleader Vinny Golia played soprano saxophone. Alex Cline presided over trap drums. From the Pan Afrikan Peoples Arkestra came Joshua Spiegelman on tenor saxophone and alto clarinet, and bassists Roberto Miranda and Latif. Joining this veteran assemblage were two of the teenagers—Nick on bass and Joey on alto saxophone. Providing support and just enjoying the sounds were our third student, Andrew, myself, and two other Oakwood students, Jeni McKenna and Jordan Nahas-Vigon, who volunteered to photograph the session.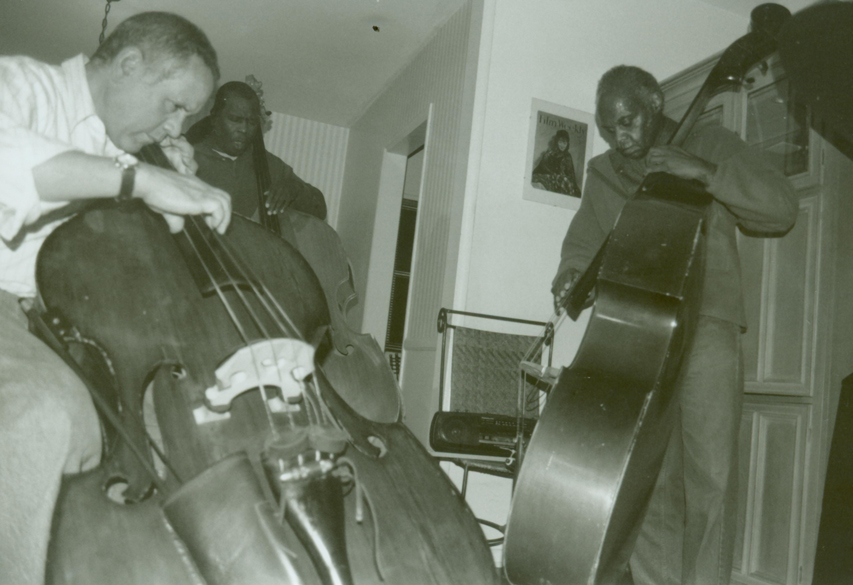 (l-r): Roberto Miranda, Latif, Henry Grimes at the Rosen family home, 9 February 2003,
photo by Jordan Nahas-Vigon.
The band rolled through two sets, each consisting of an extended collective improvisation. The first set lasted seventy minutes, followed by a break and a second of thirty minutes. The bass-heavy group traded off with only Henry playing continuously through both sets, his hands seemingly none the worse for wear. After thirty years and with only a few weeks on his new bass, this alone was astonishing. Yet, even though he seemed occasionally rusty, his sense of swing was impeccable and his approach suggested the creative riches to come if he continued to play.
Henry spent the night at Nick's, and, after a full breakfast, accompanied him to school the following morning. Young saxophonist Joey excitedly proclaimed it the best carpool experience in his years at Oakwood. Nick had arranged time and an honorarium with our principal to have Henry speak at our Monday morning "Town Meeting," a regular "open mike" forum for the entire school community, to be followed by a question-and-answer session and a performance of improvised music by Henry, Nick, and Joey at lunch in the music department. They arrived early, briefly visiting my tenth grade class, before Nick introduced Henry to the approximately five hundred people gathered at the assembly. Henry spoke briefly, but clearly and directly about the importance of the music and his willingness to entertain whatever questions students might have at their lunchtime performance. With about an hour to kill, we adjourned to the orchestra room so they could warm up. I brought along a copy of the Steve Lacy-Roswell Rudd Quartet album School Days, recorded live in New York in 1963, with Henry on bass. After the emphatic last notes of Thelonious Monk's "Brilliant Corners," Henry looked up and commented that he could not recall the date, the personnel, or the place, but that he remembered every single note.
I left them to practice and rushed back to my office, where Los Angeles Times reporter Lynell George was waiting. An exceptional and wide-ranging journalist, she has written extensively on the black community, music, and culture. [4] By coincidence, a few days earlier she had rung with background questions on tenor saxophonist Teddy Edwards. I shared what I knew, and then I asked if she would like to hear about a great story unfolding. She resolved to be at Oakwood for Henry's lunchtime appearance. While she waited in the social studies office, she read through the Signal to Noise articles. Since this would mark Henry's first public appearance in over three decades, I thought it best, and Lynell agreed, that she be a witness to the story at first, watching it unfold, before committing to anything more substantial and before approaching Henry as a journalist. I did not know what to expect from Henry, and was concerned about short-circuiting a possible return to the world of jazz by generating too much exposure and pressure too soon. I did not presume to know or understand his situation and history, and was trying to take events one step at a time, working with everyone involved to facilitate, as best we could, Henry's desires.
A standing-room-only crowd of some eighty students, faculty and staff filled the choral room at noon. Two additional student volunteers, Rachel Engelman and Ben Phillips, provided photographic documentation, as they had during the morning assembly. Nick emceed and kept the focus on the music, away from questions that might be too personal. If Henry's answers were brief, nevertheless he was friendly, funny, and receptive. Then the musicians settled into the first of two improvisations. The rest of the day was given over to reflections on what I had been witnessing: the support offered by the musicians who had gathered at the Rosen home, the response of the students and school, their support of Henry's desire to play again, their eagerness to learn from him, and the extent of Henry's command of his instrument—playing both pizzicato and arco—after only a few weeks woodshedding. Alex Cline e-mailed me with similar musings: "I was amazed at how fearless and game Henry was throughout the music making—plus he can still swing! He played most of the time and didn't appear to burn out, walk away with blisters, or just suffer massive overwhelm! What a guy!" [5] Perhaps even more impressive was the strength of his artistic integrity, which he clearly had not abandoned despite his prolonged absence from the music world. During a subsequent interview with Lynell for the Los Angeles Times, he explained that he had studied acting briefly and "I've been writing some poetry too. It's the same place of expression. It's the way I like to do it. Everything coming through me." [6]
I had also received a communication that day from Larry Appelbaum, then senior studio engineer at the Library of Congress. I had met Larry the previous year at the annual convention of the Association for Recorded Sound Collections (ARSC) in Santa Barbara, where he had arranged for me to give a presentation. His contributions to the recorded legacy of this country have been many, and, particularly in matters relating to jazz, he seems to have one ear very close to the ground. It was actually a few months before the Signal to Noise article appeared that he had asked me if there had ever been any sightings of Henry Grimes in Los Angeles. Of course, I told him that as far as I knew Henry was dead, and a brief survey of some long-time L.A.-based musicians yielded negative answers. However, this particular Monday I was able to let him know of the developments of the past two weeks. Larry promptly forwarded my message to Michael Fitzgerald in New Jersey, perhaps the most diligent researcher and chronicler of Henry's career, who had contributed an introductory essay to accompany the Marrotte interview in Signal to Noise and who, since 1994, has maintained a detailed discography of Henry. [7] Michael quickly e-mailed, "This is a remarkable event in the history of the music and I hope the good news will just keep getting better." Later that day he added, "I would be happy to assist in any way I can." [8] From this point on, I would keep Michael and Larry informed of Henry's re-emergence, providing notes, press clippings, tapes, and photos, when available.
During the next few days Nick arranged to take lessons with Henry and for him to have access to rooms in our music department. They were soon joined by saxophonist/flutist Joshua Spiegelman and Miguel Atwood-Ferguson, a young violist, who was already carving out a career as a much in-demand studio musician, but who also had a passion for pushing his art into newer forms of music, particularly in jazz improvisation. Nick was thrilled at the prospect of regular sessions with Henry, but also reported that Henry was disappointed to learn that the Sunday jam session and Monday appearance at the school were not going to be regular weekly activities. If nothing else, it was clear that Henry was anxious to play and ready to appear before large audiences. Perhaps that could now be arranged.
Part 3
At some point during the next week, I was on the phone with Kamau Daáood, poet and director of the World Stage Performance Gallery in the Leimert Park section of South Central Los Angeles. Kamau had founded the World Stage in 1989, and with the support of drummer Billy Higgins and pianist Horace Tapscott had turned the small, sparse, storefront space into an exceptional center for the community arts, featuring drum, vocal, and poetry workshops, jazz jam sessions, and, on Friday and Saturday nights, jazz performances. By this time the Stage and the many other arts spaces in the area had acquired an international reputation. Kamau's response to my relation of recent events was to offer Henry a Friday and Saturday night at the Stage during any weekend in March.
Along with the enthusiasm we all shared for this possibility, there was a nervous undercurrent. As I wrote to Michael Fitzgerald, "We are just holding our collective breaths now that Henry won't pull another disappearing act." [9] I was also concerned with the boys being able to develop and perform. They had taken the initiative in this story and deserved to be there, but it did create a very uneven band in terms of experience and skill level. Not only would a gig at the World Stage be a very different experience than the comfort zone offered in Nick's front room, but they had to learn how to participate in a high caliber free jazz ensemble. During that first session they played practically without respite, contributing to a heavy density of sound. Alex Cline and I talked about this during the days that followed, a conversation that included this missive from him:
As for my ad-nauseam concerns about the music, I guess my only point is that a little restraint can go a long way, especially when there are potentially a lot of horn players. I suffer from fear of relentless density. Folks need to pace themselves a bit, something that's obviously hard for the young blades to understand or appreciate. I remember what it was like to be an enthusiastic young player...well, sort of! "Go nuts when it's most musically appropriate to go nuts." One has to have somewhere to go, at any rate; it's not advisable to say everything one has to say in one's first solo! The overall musical shape also needs to be something other than a monochromatic straight line or an endless Wagnerian climax, and each improv should ideally tell a different story. Our jams that day succeeded surprisingly well in this regard, although a little less busy horn density would have appealed to my selfish preferences. Melody is good, too! But we all have to be fully in the present moment and simply be who we are while yielding to facilitate the unfoldment of that thing we call the Music. [10]
Henry embraced the idea of a gig at the Stage, and during the last week in February Nick again worked the phones to put together a band. We were hopeful that Bobby Bradford, Vinny Golia, Pharoah Sanders, or Michael Session would join, but previous commitments and job requirements prevented them and a few other artists from participating and necessitated some changes. Nick worked with Alex's recommendations to find musicians interested in and capable of playing extended free improvisations, and a strong lineup with a wide range was secured. Alex was impressed. "At least Nick has a sense of the gravity of the situation and does want the music to be as good as it can be. That's a great place to start from! It's hard to believe he's only 17 years old. This is a lot to have happen to a 17-year-old kid!" [11]
On Sunday, 9 March, The Henry Grimes Group assembled for a rehearsal, once again in the Rosen family front room. Re-joining Henry were Alex Cline on drums, Nick on bass and Joey on alto saxophone. Fiery saxophonist/bass clarinetist Chris Heenan and Bobby Bradford-influenced trumpeter Dan Clucas joined the front line. Unable to make the rehearsal, but committed to joining the band for the gig would be Alex's twin brother, prodigious guitarist Nels Cline, and multi-reed master Charles Owens. Given some of the issues arising from the first session, we saw Nels's presence in the rhythm section as essential to the band's success. According to Alex, "Personally, I'm glad Nels will be there, because he can sort of musically direct traffic with his contributions as well." [12] Charles would have to bow out at the last minute to be replaced by soprano/tenor saxophonist George Harper. With Henry's approval, journalist Lynell George was there, now with a formal assignment from the Los Angeles Times to write about Henry and with a photographer in tow.
With the spur of Henry's first professional gig in more than thirty years, the session was more focused and defined than previously. Henry provided the lead, setting patterns for the band through three sets, each consisting of one extended collective improvisation. This would be the band's only rehearsal before its 21–22 March debut, but it allayed some of our concerns about the cohesion of the Group. The next day Alex wrote that "at least some more music was made, and perhaps more was solidified as we draw closer to the main event.... I think it can and will get even better. Having Nels in the mix will add a lot and help create more orchestrational variety and a broader musical foundation." I had encouraged Alex to work with Nick and he was developing rapidly, but there was still tutoring to be done.
Musically it should be fine (especially if I can talk to Nick about the beauty of he and his pal Joey laying out more; they are certainly spirited—ah, youth!—but it should obviously be Henry's show)! I have to say that Nick showed dramatic improvement in the time department after our little chat, so clearly his learning curve is close to instantaneous. This was very pleasing and encouraging. With a bit more restraint in certain quarters I think things can improve markedly, as there is still a ton of largely untapped potential in this line-up with these players. I hope the kids can exert some uncommonly mature discipline once they get in front of a real audience! [13]
The band also decided to forego payment and to give whatever money was earned at the World Stage to Henry.
The pre-concert publicity generated a buzz and anticipation was running high. Nels Cline announced the gig on his website, a major internet stopping space for indie rockers and avant jazz enthusiasts, and the word spread. The LA Weekly of 20 March announced the performances of The Henry Grimes Group at the World Stage as their "Pick of the Week." The Calendar section of the 21 March Los Angeles Times featured Lynell George's lengthy and insightful piece, and a photo of Henry on its front page—"A jazz mystery unravels; Henry Grimes, the Juilliard-trained bassist who quietly walked away decades ago, is slowly reemerging." [14]
As the crowd gathered in front of the World Stage that Friday night, the band loosened up inside. Henry greeted and chatted with people for a while, before retiring to the small, upstairs office for some privacy until the concert began. However, the mood of anticipation was tempered by the pall cast by international events that week. Henry had absented himself from the musical world at a time of turmoil in the U.S. and in Southeast Asia; now he was returning at the beginning of another U.S.-generated catastrophe in the Middle East. For the previous two months mammoth demonstrations around the world had protested the Bush administration's clear plan to cement U.S. interests in the Middle East further via an invasion of Iraq. On Saturday, 15 March, a Hollywood demonstration drew thousands of marchers. A few days earlier, Nick Rosen was one of a handful of students at Oakwood who led a spontaneous noontime march in North Hollywood in opposition to the war.
When the door to the World Stage was opened that Friday evening, the bombs were falling on Baghdad and U.S. troops were moving into southern Iraq. With Henry standing intently behind him, poet Kamau Daáood welcomed the audience with a reading of one of his latest creations, "Angel of Scissors," that celebrated this special place,
in the country of hearts
compassion is the common language
in this place
we speak with feeling
a shared space
subtle as the air altered by a wing
or the faint edge of a song softly ringing
gone from the ear
but echoing as an image in the mind
each heart is the center of this world
and then railed against the forces recently let loose,
there is a sickness of arrogance
this disease of force in the world
those with their self-importance
not knowing that from the sun
you cannot see ants with human eyes
or that breath has a limited visa [15]
Although this was only their second opportunity to play together, the band was maturing. With Henry setting the patterns, providing a huge sound and dancing over the instrument, and Alex and Nels Cline providing shape and structure, each improvisation became more persuasive. Alex had spent time mentoring Nick and it showed. Though still a great distance from the jazz veterans, in the space of only a few weeks, the boys had grown. They were listening more intently to each other, to the contributions of the other artists, and to the group sound as whole. If not there yet, they were learning when to play, what they should attempt to play, and, almost, when to lay out. One of L.A.'s most talented music journalists and a keen follower of the new music scene, Greg Burk reviewed the performance for the LA Weekly:
The sounds were all you expect from above-average free improv: many strong individual efforts occasionally coalescing into a communal totality, counterbalanced by instances of overplaying and failure to listen. The ratio was well in plus territory despite the short get-acquainted time…. The best stuff was a lot of fun. Teammates Clucas and Heenan often brought diffusions into celestial focus with their sustained harmonies. Clucas and N-Cline each launched a spectacular post-bop solo, and N-Cline spread watercolor bridges throughout. Harper carved a well-considered statement through tasteful overblowing and alternate fingerings. A-Cline acted as conductor, gently indicating a pulse where needed and whipping the fast sections like a stagecoach driver. Rosen inspired smiles when he turned his bass into a hand-percussion instrument, and his co-bowing turn with Grimes produced wonderful tactile densities, especially when N-Cline plunged in to bow his guitar with a screen-door spring; generally, though, Rosen couldn't complement Grimes without muddying the waters.
Grimes, short and pluglike, cheek bent to bass neck, seemed to be in another world, but his fingers were right there, darting elegantly among the vines and thickets, or bowing deep, resiny foundations, just as they were with Ayler and Taylor and Rollins and Shepp. He must have been remembering why he once dedicated his life to this music, and also why he bowed out. [16]
At evening's end, in the midst of enthusiastic, vigorous applause, Kamau turned to Henry and articulated what we all felt: "Brother Henry, man, we missed you. Welcome back."
Nick, Joey, and Andrew could not pick up Henry at his hotel the next evening, so my wife, Jeannette Lindsay, and I volunteered. We first drove to East Los Angeles and picked up Nigerian poet and novelist Chris Abani, also a jazz enthusiast and sometime saxophonist, who, since his 2001 arrival in L.A., had become an ardent follower of the musical evolution of South Central and participant in the Leimert Park arts scene. We then stopped at the Huntington Hotel. When Henry answered my knock on the door, his pull-over sweater was gone, replaced by a coat and tie, and he was grinning warmly. Friday night had been more than satisfying and he was looking forward to that evening's gig with enthusiasm. The spark was there.
Our quartet drove to Leimert Park for a pre-concert meal at the Kitchen, the local soul food restaurant, and was joined by reporter Lynell George, and our three students—Nick, Joey and Andrew. Dinner conversation covered the war, Kamau's poem of the night before, and Henry's strong interest in poetry. Chris presented Henry with Kalakuta Republic, his first collection of poetry, and an advance copy of his soon-to-be-released next volume, Daphne's Lot. [17] Arriving at the Stage, Henry took his leave and retired to the upstairs office, where he spent his pre-concert time reading and contemplating Chris's books.
Before the band took the stage, Henry told them that he would open solo. From the bandstand, he announced that he was going to perform a piece inspired by one of the poems he had just read a few minutes earlier in Kalakuta Republic. Abani's collection of poems derive from his one-year incarceration as a political prisoner on death row in Nigeria's most notorious prison. His spare, searing, disturbing, harrowing poems brand the reader to the brutalities endured by all the occupants of that gruesome place. Henry offered a haunting, meditative, five-minute performance. At the conclusion of the piece, and after a prolonged ovation, the band—minus George Harper, who had another commitment—joined Henry.
The Saturday night crowd was larger than Friday's, as the sidewalk outside the Stage filled with fans, old acquaintances, and the curious. A few musicians had come to verify that this person was Henry Grimes. After the gig, I chatted with drummer Donald Dean, veteran of the Pan Afrikan Peoples Arkestra and bandmate of Eddie Harris, Jimmy Smith, and Horace Tapscott, among others. Shaking his head in amazement at the story of Henry's last thirty years, he told me that he had last seen Henry in L.A. around 1970, at his home near the beach. Henry was visiting and at one point took off his shoes. He said he was going for a walk along the beach and headed out the door. Donald said that he never came back, leaving behind his shoes and other items. That was the last time Donald had seen him…until this Saturday night.
People had gathered around Henry both nights. He was cordial, but also made frequent use of the World Stage office to disengage. Among the fans and artists, well-wishers and curiosity-seekers, were also people with offers, from gigs to documentary films. To some extent this was anticipated. A few weeks earlier Nick had called, somewhat nervously explaining that Henry had asked him to handle incoming calls and requests for gigs, appearances, meetings, etc. Still a seventeen-year-old high school senior, Nick became, in essence, Henry's manager. He was unsure about his capacity to do this, not wanting to damage any possibilities Henry might have. Whatever trepidations he had, however, were overcome by his desire to help in any way he could and I encouraged him. I had no doubt that his energy, decency, care and admiration for Henry would get him through. For whatever reason, many of us noticed the bond developing between Henry and Nick. Alex Cline e-mailed, "The kid is growing up fast. I must say I'm impressed.... There is indeed a bond there; karma is an amazing thing." [18]
Among the situations Nick faced, a difficult one was dealing with the grousing from various people that weekend at the Stage. Some were not pleased when told that if they wanted to contact Henry, they had to go through Nick. "Man, they told me I had to see that kid!" was one comment I overheard outside the Stage from one outraged suitor. Nick had to grow up faster. When bassist Mark Dresser, an exceptional practitioner of creative and improvised music, flew into town the following week to visit his parents, he brought with him a gift for Henry, an amplifier. Alex Cline, an old friend, gave him Nick's phone number and told him that was the way to arrange a visit with Henry. Mark met with Henry. Henry got a new amp and Mark invited Nick for a visit and a lesson at his parents' home before returning to New York. If I may borrow a phrase from Alex, "What a guy!"
Driving back to the Hotel late Saturday night, Henry was feeling good and wore his smile the whole way. He relished the evening's various activities, felt energized by the music-making, and told us how much he enjoyed playing in a rhythm section with Nels and Alex, whom he thought "one of the best drummers."
Henry was busier. He took on a few bass students, and was rehearsing with three other local musicians at the Jazz Bakery in Culver City. Nick, Joey and Andrew worked in tandem, providing support and transportation for Henry when needed. On Sunday, 30 March, Nick brought Henry to the Jazz Bakery to see and meet The Pan Afrikan Peoples Arkestra and their choir, The Great Voice of UGMAA, there to offer the Third Annual Tribute to their late leader and founder, Horace Tapscott, who passed in 1999. A few days later, Friday evening, 4 April, was the launch event for Chris Abani's new collection of poetry, Daphne's Lot, at the Los Angeles Theater Center in downtown L.A. Impressed by the youthful talent and commitment of Nick and Joey, and honored by Henry's response to his work, Chris invited the three musicians to perform with him. After my introduction, the trio opened with Albert Ayler's "Ghosts," and then offered a set of musical improvisations to accompany the selections Chris read from Daphne's Lot. It was a wonderful artistic collaboration, bringing together some of the varied arts in Los Angeles, further accented by the cover painting of Chris's book, a piece by East L.A. artist José Ramirez.
In 2001, a new venue for jazz appeared in the city of Inglewood, just a few miles south of Leimert Park. Ken Moore, the owner of Howling Monk coffee company, decided to open the Howling Monk Jazz Coffee Bar in the city's revamped downtown district and to feature jazz performances most nights of the week. With his good coffee and some of the best L.A. musicians (and occasionally excellent groups from elsewhere), this accessible and comfortable space that could accommodate 75–100 people quickly became another home for many music-lovers. Ken contacted Nick and offered The Henry Grimes Group a gig. On Friday and Saturday, 18–19 April, the ensemble, minus Chris Heenan but with Roberto Miranda, again played to full and enthusiastic audiences. Among the curious on Saturday night was Henry's more-than-intrigued former companion, Heather Evans, who told Nick she had traveled to the west coast with him in 1968 and had last seen him in 1970. When Nick brought Heather to Henry, she asked, "Henry, where have you been?" He replied, "Downtown."
With the quality of each performance exceeding the previous, it was exciting hearing the Group grow together, their improvisations becoming more nuanced and layered, the dynamics more evolved and precise, and each player settling in and soaring with the music. Each appearance by Henry was revelatory as he grew dramatically, the change palpable at each gig, his command of the bass becoming more sure and authoritative, fingers just dancing over the instrument. Also immensely satisfying was seeing and hearing the musical transformations occurring within Nick and Joey. In the space separating that inaugural February jam session from the 19 April gig at the Howling Monk, they showed us how open their ears were, how wide their talent was, how true their hearts were, and, perhaps, where their futures lay. They seemed to have the first inkling that they were serving something larger than themselves. It had been suggested by their actions during these months, but now it was starting to emerge in their playing. A few days after the Howling Monk gig, Alex Cline wrote, "The music grows more varied and focused, and Henry certainly seems to get stronger and more present and relaxed/confident in every way. It's pretty amazing to witness/experience. I hope things continue to unfold smoothly, gradually, and harmoniously. Joey seems to be growing by leaps and bounds as a player/improviser. Young talent is a remarkable thing to encounter." [19] His brother, Nels, wrote on his website:
Everyone wants to know about these gigs. How is Henry? What's with these kids? All I can say is: I NEVER thought I'd play with Henry Grimes! He sounds better and better, and he seems to be doing quite well with it all. He says very little, and what he does say he says very softly. And when the bow is in his hand, it seems as though some things never go away. It's an extension of his hand, of his voice. And the kids? Well, it's truly an anomalous situation, in my experience. They're only 17! [20]
Part 4
During April, planning was underway for Henry's return to New York City. Since 1996 bassist William Parker and his wife, Patricia, had organized the annual Vision Festival as a week-long celebration of the jazz avant-garde. For the 2003 edition, to be held at the end of May, they arranged to fly Henry to New York, something he seemed interested in doing, though with some trepidation. As I drove him home one evening, he told me that he would not mind going back, but only if they sent him a round-trip ticket. He also hoped that Nick would come, but family finances were not available. Nick's mother, Nina, was a working, single mother, who relied on financial aid to cover Oakwood's tuition. However, by this time many people in and out of our school were following this story and someone stepped forward. Principal Jerry Goren told Nick that a donor, who wished to remain anonymous, would provide funds for a plane ticket. The day after Henry left, Nick flew from LAX.
Bassist Roberto Miranda arranged for Nick to stay in New York with Glo Harris, drummer Beaver Harris's widow, who welcomed the student with open arms and encouragement. He soon met the Parkers, who arranged work for him as a go-fer at the Festival, enabling him to see all the shows. He met many of the artists and was able to spend some time with Michael Fitzgerald and clarinetist Perry Robinson, one of Henry's bandmates in the 1960s. Through Glo he also met her neighbor, bassist and jazz luminary Ron Carter. Nick rang most evenings, recounting each day's events with a mixture of astonishment and excitement, felt by me as well. The common threads were whom he had met and had a chance to hear, how well Henry was doing, and how welcoming and supportive everyone, without exception, was to him, this high school student with barely two years study on bass.
Henry Grimes and Nick Rosen at the Rosen family home, 9 February 2003,
photo by Jordan Nahas-Vigon.
One evening, a few days before the Festival's finale, Nick called excitedly. During the Festival he was introduced to people as Henry's student, and one day Henry told William Parker that he would like to spend some time working with Nick. He asked if another bass was available. One was provided and then Parker stayed to listen to their lesson. When their session was over, Parker asked Nick if he would like to join Henry in the large band for the festival finale.
The final evening of the Vision Festival, Saturday, 26 May, featured a tribute to recently deceased singer Jeanne Lee by a thirteen piece band and four vocalists. The band included violinist Billy Bang, William Parker on balafon, and Henry and Nick as the two bassists. [21] When Nick rang after the concert, wonder and joy saturated his conversation. The quality of the music and the spirit among these heavyweights of the musical world were inspirational. Yet, and once again, most moving to him was the kindness and support they offered: Billy Bang's wonderful encouragement on the bandstand was almost overwhelming, as were the congratulations offered afterward by many jazz luminaries. Michael Fitzgerald sent an e-mail recounting how William Parker had made "a big deal of announcing him at the performance ... 'And our other special guest—everyone calls him "Henry's student"—but he was Nick before he was Henry's student—Nick Rosen.'" [22]
Nick returned to Los Angeles a day later, while Henry remained in New York for another week, becoming busier by the day, re-integrating into the jazz scene, in demand for appearances and performances. He would return to New York in July for a few more weeks of the same, but was back in L.A. in time for a gig on Tuesday, 10 June at the Jazz Bakery, where he performed with three local musicians with whom he had been rehearsing during the spring. Thursday evening he attended Nick's high school graduation, along with fellow bassists Roberto Miranda and Ivan Johnson, Nick's Oakwood music teacher.
During the first week in August, Nick and Joey helped Henry move out of the Huntington Hotel and temporarily in with trumpeter Dan Clucas. Henry was transitioning to a permanent return to New York, and getting him out of the hotel had become a priority. There were only two boxes of belongings. The boys struggled with one large box down three flights of stairs, while Henry followed carrying the other. The years of physical labor had kept him thin and in good physical condition. On 4 August he performed at the Salvation Theatre with Group bandmate Dan Clucas and drummer Rich West, as part of the Line Space Line new music series curated by Chris Heenan and Jeremy Drake. The Henry Grimes Group would then play two nights, 8–9 August, at Rocco's in Hollywood with Vinny Golia joining the Group. Not long after, he was back in New York for a few weeks.
Accompanied by his new companion, Margaret Davis, Henry returned to L.A. on 5 September for what would be the final performance of The Henry Grimes Group on Sunday evening, 7 September at the Eagle Rock Cultural Center, just north of Los Angeles. The Open Gate Theatre's new music series, presided over by Alex Cline and Will Salmon since 1997, offers a forum spanning the avant classical and jazz realms. Usually attended by a small but dedicated and musically astute audience, this gig filled the space and the band played before a standing-room-only crowd of some two hundred people. The Group expanded into a nonet for this special performance with the addition of violist Miguel Atwood-Ferguson. Announcing the gig as the LA Weekly "Jazz Pick of the Week," Greg Burk wrote that after Henry's re-emergence in March,
It was immediately clear that he had lost nothing, as he bent his small frame forward and lost himself in tree-lizard dashes from one end of the instrument to the other, perfectly balancing the passionate extremes of the seven other musicians who surrounded him. Most of that ensemble remains tonight. In addition to young bassist Nick Rosen (instrumental in Grimes's public renascence) and Rosen's schoolmate Joey Dosik (alto sax), returnees include some of our city's highest-riding extremists: all-seeing, all-hearing, all-playing drummer Alex Cline; scraping, rushing, evaporating guitarist Nels Cline; and stab-toned trumpeter Dan Clucas. To raise the stakes even further, Vinny Golia brings his endlessly flowing improvisations on tenor and soprano, and ladies and gentlemen, please welcome as third bassist Roberto Miguel Miranda, the most furiously spiritual low-ender in creation, who was inspired to follow the wilderness path by Grimes (among others) some 40 years ago. All you can say is wow. [23]
By consensus, it was deemed the group's finest performance to date.
Part 5
Henry played one more gig before leaving Los Angeles, a trio session on 20 September at the Schindler House in Hollywood with saxophonist Joseph Jarman and drummer Alex Cline. He would return some seven months later during April 2004 for one week of performances in various settings around the L.A. area, dazzling audiences with his growing mastery and creative genius. His band for those gigs included Group veterans Dan Clucas and Alex Cline, along with a few additional jazz luminaries—multi-reed instrumentalist Bennie Maupin and pianist Jane Getz. One of the appearances, on 15 April, was at The Oakwood School, where they were joined by Nick Rosen, now an alumnus. But by the end of September 2003, Henry was resident again in New York City, thirty-five years after his last performance there. Since then he has been on top of the jazz world, playing as he pleases, traveling the world, and continuing to dazzle with his virtuosity and artistic vision.
The boys have moved on as well. Nick enrolled at the California Institute of the Arts in Valencia, north of Los Angeles, where he studied bass with Charlie Haden and Darek Oles, as well as working with teachers such as drummer Joe LaBarbera, composer James Tenney, and Vinny Golia. He graduated in 2007 and is pursuing his career as a musician, working with Arthur Blythe, Nate Morgan, Jesse Sharps, the Pan Afrikan Peoples Arkestra, Build an Ark, Adam Rudolph's Go Organic Orchestra, and in Vinny Golia's Large Ensemble at Cal Arts, as well as composing, recording, and leading his own bands. Joey Dosik and Andrew Schneiderman both graduated from Oakwood one year after Nick. Joey went on to study saxophone at the University of Michigan, becoming one of the leading lights in its music program before graduating in 2008. His performance credits now include work with drummers Rasheed Ali and Ndugu Chancler, saxophonist and composer Oliver Lake, guitarist Eddie van Halen, and the Afrobeat band Nomo. He has also arranged the music of and played with alto saxophonist Arthur Blythe, and leads his own band. Andrew pursued ethnomusicological studies at Washington University in St. Louis, producing music events, hosting his own radio show on the campus station, and directing its jazz programs. After graduating in 2008, he became an intern at the Kennedy Center in Washington, D.C., working on music programming. In November 2009, he was appointed assistant to the director of the Brubeck Institute in Stockton, California.
There are many layers to this story. Certainly the return of a great artist is the most prominent and is story enough. But there is also the re-emerging elder giant meeting the young neophyte, also with a difficult past. And the role played by the three young students contributed significantly to this special event in the spring of 2003. All of them grew enormously as artists and as people. As this story was unfolding, Oakwood's headmaster, James Astman, observed, "Nick has done something remarkable and wonderfully humane." [24] And much was done by Henry for Nick, for all of those who contributed to make this a success, and for fans of good music everywhere. Henry's life was changed and his career re-launched, and perhaps Nick has found his direction in life. He even enjoyed the bonus of discovering an important part of his family history, when he learned from his mother the role played by his maternal grandparents in the music world. Dr. Fred and Lee Warren were early Western researchers of African culture in the 1960s and 1970s. Their travels and investigations led to their writing books on African music, dance, and theater.
It is also a story of supportive communities—musicians, poets, journalists, researchers and archivists, students and a school administration, cultural space organizers, from East L.A., North Hollywood, and South Central L.A., as well as from the East Coast—all pooling their talents and energies to support Henry. It was an inspiring aligning of forces, something that in many other locations and contexts might not have happened. Fortunately, this was different and resulted in a special, unique experience with no down side. Everyone won.
Notes
Many thanks to James Astman, Greg Burk, Alex Cline, Michael Fitzgerald, and Jeannette Lindsay for their helpful comments on an earlier draft. For information on the career of Henry Grimes, readers should consult his website: www.henrygrimes.com
[1] Epigram: Walter Benjamin, Selected Writings, Volume 2: 1927–1934, ed. by Michael W. Jennings, Howard Eiland, and Gary Smith (Cambridge, MA: Belknap Press of Harvard University Press, 1999), 729.
[2] Steven L. Isoardi, The Dark Tree: Jazz and the Community Arts in Los Angeles (Berkeley: University of California Press, 2006).
[3] Marshall Marotte, "Henry Grimes: The Signal to Noise Interview," Signal to Noise: The Journal of Improvised & Experimental Music 28 (Winter 2003): 45–47.
[4] See, for example, Lynell George, No Crystal Stair: African-Americans in the City of Angels (London: Verso Books, 1992).
[5] Alex Cline, 10 February 2003, personal e-mail.
[6] Lynell George, "A jazz mystery unravels; Henry Grimes, the Juilliard-trained bassist who quietly walked away decades ago, is slowly reemerging," Los Angeles Times, 21 March 2003, E25.
[7] See Michael Fitzgerald's overview of Grimes's career in Signal to Noise 28 (Winter 2003): 42–44. Also Michael Fitzgerald, Henry Grimes Discography, http://www.jazzdiscography.com/Artists/Grimes/.
[8] Michael Fitzgerald, 10 February 2003, personal e-mail.
[9] Steven Isoardi to Michael Fitzgerald, 24 February 2003, personal e-mail.
[10] Alex Cline, 21 February 2003, personal e-mail.
[11] Alex Cline, 4 March 2003, personal e-mail.
[12] Alex Cline, 21 February 2003, personal e-mail.
[13] Alex Cline, 10 March 2003, personal e-mail.
[14] George, "A jazz mystery unravels," E1, 24–25.
[15] Kamau Daáood, "Angel of Scissors," section I and part of section II, from private videotape of the concert. The complete poem, with a few subsequent alterations, appears in Kamau Daáood, The Language of Saxophones (San Francisco, CA: City Lights, 2005), 103–05.
[16] Greg Burk, "Henry Grimes Ensemble at the World Stage," LA Weekly, 21 March 2003, 44.
[17] Chris Abani, Kalakuta Republic (London: Saqi Books, 2000), and Daphne's Lot (Granada Hills, CA: Red Hen Press, 2003).
[18] Alex Cline, 27 March 2003, personal e-mail.
[19] Alex Cline, 22 April 2003, personal e-mail.
[20] Nels Cline, "New Spiel for Spring 2003," 1 May 2003, http://www.nelscline.com/
[21] A CD/DVD set, VISION Vol. 3, released in 2005, offers aural and visual footage of the band during the concert.
[22] Michael Fitzgerald, 15 June 2003, personal e-mail.
[23] Greg Burk, "Jazz Pick of the Week: Henry Grimes and Friends," LA Weekly, 5–11 September 2003, 127.
[24] James Astman, 10 February 2003, personal e-mail.
Author Information:
Steven L. Isoardi received his Ph.D. in political science from UCLA, and is on the Social Studies faculty of The Oakwood School in North Hollywood, California. Since 1989 he has been researching and writing on jazz and the cultural history of African American Los Angeles, fourteen of those years in collaboration with the UCLA Center for Oral History Research. He has authored and/or edited Central Avenue Sounds: Jazz in Los Angeles (University of California Press, 1998), which won the 1999 Oral History Association Book Award, Jazz Generations (Continuum, 2000), Songs of the Unsung (Duke University Press, 2001), and The Dark Tree: Jazz and the Community Arts in Los Angeles (University of California Press, 2006).
Abstract:
The author provides his recollections of the California activities of Henry Grimes following the bassist's 2003 rediscovery.
Keywords:
Henry Grimes, Nick Rosen, Los Angeles, jazz

How to cite this article:

Chicago 15th ed.: Isoardi, Steven L. "The Return of Henry Grimes: A Memoir." Current Research in Jazz 2, (2010).
MLA 6th ed.: Isoardi, Steven L. "The Return of Henry Grimes: A Memoir." Current Research in Jazz 2 (2010).
APA 5th ed.: Isoardi, S. (2010). The Return of Henry Grimes: A Memoir. Current Research in Jazz, 2
For further information, please contact: