Home > V6 > Black Experience in the Fine Arts: An African American Community Arts Movement in a University Setting
Black Experience in the Fine Arts: An African American Community Arts Movement in a University Setting
Steven L. Isoardi and
Michael Dett Wilcots
"We're back in the same boat again,
unless you yourself learn to listen,
learn to try to listen,
to things that are creative."
— Horace Tapscott, University of California, Riverside, April 11, 1972
Introduction
During the last ten to fifteen years considerable attention in jazz studies has focused on exploring the histories, ethos, aesthetics, and politico-cultural activism of African American jazz musicians and organizations within their communities during the 1960s and 1970s. The now substantial literature includes studies and/or primary source material on Sun Ra, the Association for the Advancement of Creative Musicians (AACM), The Pan Afrikan Peoples Arkestra and Union of God's Musicians and Artists Ascension (UGMAA), the Black Artists Group (BAG), and the Collective Black Artists (CBA), among others. [1]
Pianist/composer/conductor/activist Horace Tapscott's autobiography, Songs of the Unsung, was an important and first extended documentation of a vital and relatively unknown movement in Los Angeles from this period, the Arkestra and UGMAA. [2] Daniel Fischlin and Ajay Heble write of Tapscott as "one of the most pre-eminent African-American artists to articulate a musical philosophy in which both improvisation and community making are foregrounded...." [3] While George Lipsitz has favorably contrasted the memoir with the approach to jazz history in Ken Burns's documentary Jazz, arguing, "Songs of the Unsung presents jazz as the conscious product of collective activity in decidedly local community spaces. The modernist city and the nation pale in significance in Tapscott's account in comparison to the home, the neighborhood, and the community." [4]
Now, thanks to the efforts of the Tapscott family and Gordon Theil, the former head of the music library at UCLA, an invaluable supplement is available. Before his retirement, Theil arranged to digitize the many reel-to-reel tapes from the newly installed Horace Tapscott Archive, which documented a course, "Black Experience in the Fine Arts," offered by Tapscott and his Pan Afrikan Peoples Arkestra/UGMAA Foundation at the University of California, Riverside, during the spring of 1972. The recordings provide more detailed considerations of their ethos and aesthetic, as well as many musical and poetic performances of previously unavailable material. This article presents and explores some of this material as a more in-depth development of aspects of Tapscott's and his organization's worldview, particularly the notion of the community artist, his/her roles within and inspiration drawn from the community, as well as considering the challenges raised to traditional pedagogy.
During this time, some individual artists were invited to teach on college campuses, including John Handy at San Francisco State, Bill Dixon at Bennington College, and Cecil Taylor at the University of Wisconsin from 1970–71, and then at Antioch College in 1971–73 with Jimmy Lyons and Andrew Cyrille. Sun Ra taught a course during the spring of 1971 at UC Berkeley titled "The Black Man in the Cosmos." References appear in the jazz literature to these brief adjunct professorships, but little documentation of them has been offered. [5] Consequently, these tapes stand as a (for now) rare and detailed documentation of a vital force in the collective community movements of the time.
The Setting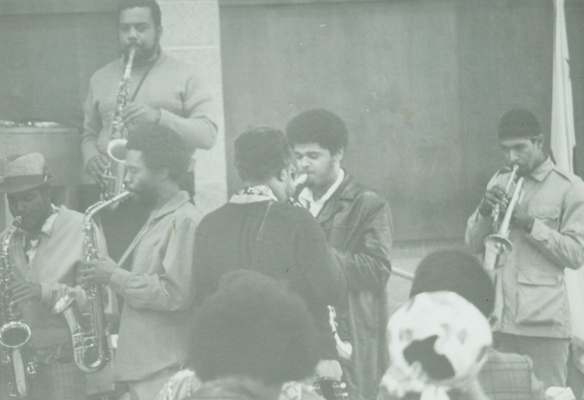 Rahsaan Roland Kirk performing in Horace Tapscott class at Riverside Community
College, 1971. (l-r): Larry Northington, alto sax; Arthur Blythe, alto sax; Will
Connell, alto sax; Kirk (back to camera); Azar Lawrence, sax; Butch Morris, cornet.
Photo by Michael Dett Wilcots.
The Black Power/Black Studies movement of the 1960s on university and college campuses advocated a turn toward and intervention into African American communities. Classes, programs, and schools mushroomed by the early 1970s. Taking the form of community service and learning, they were mostly couched in language that cast the black college instructor or student as a Prometheus bringing the light of black knowledge to empower his or her community. [6] Within university classrooms, more often than not, the emphasis was on black learning and experience, historically and within contemporary communities and the world, as subject matter. An early piece in The Black Scholar argued, "we [...] do not seek sufficiently to utilize the black community (and the world) as a laboratory of life and study." [7]
Not as frequent was the black community entering into the university classroom, i.e., not as subject matter, but bringing members and artists into the classroom as instructors. In 1972, at the University of California, Riverside, a different approach was offered when a Los Angeles community-grown and -rooted arts movement—the Pan Afrikan Peoples Arkestra and the Union of God's Musicians and Artists Ascension (UGMAA) under Tapscott's leadership—entered the university to instruct and involve the educators and future educators in the ethos, aesthetic, and activities of the arts movement emerging within black communities.
The late 1960s and early 1970s were an expansive, heady time for the Arkestra and UGMAA. Political and cultural consciousness was still strong and evolving within their community. Participation in the organizations was steadily increasing. Important recordings appeared featuring the Horace Tapscott Quintet and with alto saxophonist Sonny Criss, as well as Black Panther Party leader Elaine Brown. [8] Radio support on KUSC 91.5 FM, via "Greg's Refresher Course" by disc jockey Gregory Irving aka Aman Kufahamu, was extensive, and there were regular appearances on public television. Weekly performances were routine throughout the community, and supporters helped create other cultural spaces and organizations, which in turn expanded UGMAA's presence. Indeed, throughout south central Los Angeles, various organizations continued to offer a wide range of artistic and cultural programs, some benefitting from private and government financial support, which attracted thousands of people as artists, supporters, and appreciators.
UGMAA was also looking beyond the boundaries of Los Angeles, establishing contacts in other parts of California and the country, and sending artists (including Butch Morris and Robert Roy aka Abdul-Salaam Muhammad) to Chicago and the East Coast on exploratory missions. They were aware of other collective, black community-based and -oriented organizations, and felt a common purpose. Many opportunities to broaden their audience also came through the growth of Black Studies courses during the late 1960s. The Arkestra was a much sought-after band by black student unions throughout California, a demand that continued through the next two decades. Arkestra flutist/soprano saxophonist Kafi Roberts recalls, "I think we played every UC or state college in California." [9]
For a few years in the early 1970s, UGMAA was able to bring its vision of the arts to Riverside, California, about sixty miles east of Los Angeles. Under the leadership of Horace Tapscott, UGMAA offered classes at Riverside City College (RCC) and the University of California, Riverside (UCR) that did not simply present different subject matter, but that sought to transform the classrooms into an extension of the community arts movement. In so doing they had an opportunity to articulate and develop their own purpose and worldview, pose unique challenges to students used to traditional pedagogy, offer experiences that would heighten and expand their sense of the creative process, its importance in their lives, and directly raise the question of their participation in the world around them.
Establishing a Base in Riverside, California
During the 1960s Riverside was a mix of the citrus industry and other agricultural enterprises, white dominated but with a substantial population of other ethnic groups, and home to one of the newer campuses of the University of California. By 1970 it had a population of 140,000, less than ten percent of whom were in a close-knit black community with a few blocks of small storefronts serving as its center. During the 1960s they had successfully fought the city establishment to end segregation in their school system and to deal with the growing problem of unemployment. Nearby areas were more inhospitable, even intensely racist, from the industrial city of Fontana to San Bernardino, where organizations like the Ku Klux Klan had their state headquarters.
Pan Afrikan Peoples Arkestra at Borwell Park, Riverside, CA, 1971.
Photo by Michael Dett Wilcots.
The small black population in Riverside supported its culture. There were a few important music venues, and jazz bands appeared regularly, some from Los Angeles. Horace Tapscott and other members of the Arkestra had performed in small clubs in Riverside during the 1960s. Some UGMAAgers, including dancer Vicky Roberts and flutist/vocalist Adele Sebastian, were born there and maintained family connections. During her adolescence, Vicky's parents befriended African students, who were attending the University of California. It was then, she recalls, "I realized that I was an African. I learned how to wrap my head and wear clothes with kente cloth when I was nine years old." [10] It was also a community thirsty for more of what was emerging in the black arts movements around the country and in Los Angeles.
In the spring of 1971, Tapscott was asked to do a month-long class at Riverside City College, and in June he and UGMAA offered a workshop titled "Black Experience in the Fine Arts." UGMAA visual artist and archivist Michael Dett Wilcots recalls that this came about through the intervention of George Quant, "who was connected with the Transcendental Meditation Center, which was over in the Leimert Park area. He had connections with different colleges." [11] A former resident of Riverside, Quant was hired by the city to direct the Riverside Fine Arts Program, slated to run during the summer of 1971. "The Riverside project was much more comprehensive and complex than most people realize and it was planned that way," Quant recalls. "Horace used to call me the mastermind behind the Riverside project. I was the designer of a program construct that allowed some very smart and talented people to come together to make a difference. Nothing short of a creative master mind collective. Coming together at just the right historical moment." Quant also worked with Tapscott on the course outline for the workshop at RCC and the subsequent class at UCR, and credits him as an early inspirational mentor. "I learned from Horace Tapscott many years ago. You don't have to be famous to have fun and to make a difference." [12]
Under the city's Fine Arts Program many different organizations came to and were sponsored within Riverside. "[I]t was the mother that brought the Ark to 'River City,'" Quant explains, "an unprecedented collaboration of not just individuals but the agencys [sic] and institutions that they were a part of. The Riverside project was in fact a model for what we refer to today as community based partnerships." The Arkestra, UGMAA, and Tapscott's workshop at Riverside City College were part of the program that ran from June to September, and Tapscott was hired as its music director. In addition, according to Quant, "There was a film program, and writers workshop and an actors workshop and more. All working together." [13] Poet Kamau Daáood was the first Arkestra member to go to Riverside, and remembers, "I went there to open a branch of the Watts Writers Workshop in Riverside. I received some type of stipend to attend Riverside City College.... I remember we had a storefront on Park Avenue. It was the main street of the black community. It was a two- or three-block area with small black businesses: barber shop, wash house, barbeque shop, pool hall, mom-and-pop liquor store, storefront church. I think there was even a Black Panther office." [14]
The UGMAA Fine Arts Center was opened in a storefront space in Riverside, offering classes, workshops, and performances. For UGMAA, it was the first institutionalization of their dream of an arts foundation with its own space that offered a range of black arts. According to Michael Wilcots, "That's where we first began to implement the departments of the Foundation teaching people. That's when we first started really having classes on different art things. [The poet] Ojenke and I had a photography class.... Some people had music classes." [15] Concerts and gatherings were also organized in city parks on the weekends. Vocalist Amina Amatullah recalls, "We also at that time used to do family gatherings in the park—always. We'd go to parks in Riverside. We would take the piano, every instrument we had, and everybody and their woman, and their man and their babies, and we'd be out at the park with the dancers and the poets and the music. We've done it in Riverside, in L.A.; all over we would do that." [16]
Tapscott was then hired to offer a class, "Black Experience in the Fine Arts," at UCR, which ran from February through early June 1972. In a relatively short period of time, UGMAA had built a substantial following within Riverside, people who then facilitated the expansion of its work. Michael Wilcots explains, "Once the Riverside following began to come to our concerts then they would help initiate different programs like going into the University of California at Riverside. I believe that this group, which was Jackie Simpson, who became an UGMAA administrative assistant, Samira Tobias, and a couple of other ladies, about four or five, wanted us to continue to come to Riverside because they were starving for music and for black cultural expression." [17]
Transforming the Classroom: The UGMAA Approach to Academia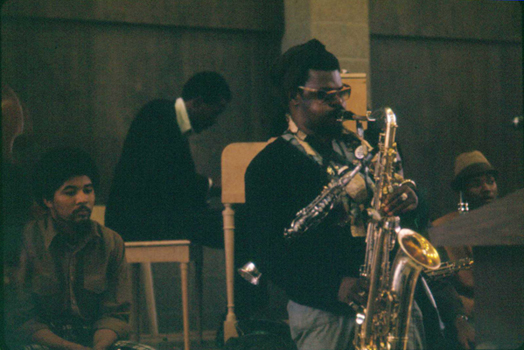 Rahsaan Roland Kirk performing in Horace Tapscott class at Riverside Community
College, 1971. Horace Tapscott, piano. Photo by Michael Dett Wilcots.
The initial, month-long June 1971 workshop at Riverside City College offered primarily live performances by UGMAA artists, usually small groups, trios, quartets or quintets, but also at times featuring Tapscott performing solo or even the full Arkestra. Performances featured compositions by Arkestra members and included Nate Morgan's "Black Woman," Ernest Straughter's "I Felt Spring," Herbie Baker's "Little A's Chant," and Tapscott's "The Dark Tree" and "Nyja's Theme." One of the high points of the class was Rahsaan Roland Kirk's appearance. Cornetist Butch Morris recalls,
I remember once we went out to play with Rahsaan Roland Kirk at Riverside City College. We were driving out and I was in the car with Rahsaan, Horace, and maybe one of the Straughters. We were driving for about an hour and Rahsaan said, "Man, people always say my music is way out, but this damn school is way out!" It was a wonderful concert though. It was the whole band. He played with a quartet—him and Horace and Dave [Bryant] and Everett [Brown, Jr.]. Then we played some things with the band and he soloed. [18]
Kirk's organic approach, drawing from the varied history of the music and its stylings, and weaving seamlessly inside and outside the harmonic structures, blended perfectly with Tapscott and the Arkestra. Michael Wilcots recalls the force of his playing, "Rahsaan would walk around and throughout the band touching the bell of his horn to each player, and as he did the players would begin to shake and tremble from the vibration of his playing." [19]
The following spring, beginning in February and lasting through June 1, Horace Tapscott and UGMAA were in a University of California, Riverside classroom offering "Black Studies 1B — Black Experience in the Fine Arts" to fifty-seven students. Part of a year-long, required, lower division introductory class for Black Studies majors, according to the University General Catalog, "1A-1B Introduction to Black Studies," was "designed to introduce the student to black studies in a variety of contexts: historical, contemporary and specialized areas." [20] Tapscott's focus was black music.
They took the title, particularly "Experience," literally and brought into the classroom their immediate, undiluted practice of black arts not as "exhibits" or "experiments" serving a more remote and passive purpose. When introducing the trio of alto saxophonist Black Arthur Blythe, bassist Roberto Miranda, and drummer John Blue, Tapscott told the class, "Very shortly now you will have an experience, a black experience in the black arts, in the black music, in the straight-in black music, grass roots music, music of the people. This is what you're going to hear today. And once you hear it this morning, you'll hear it all week long. So next time you hear it, it will become a part of you, most of you." [21] Through their presentations and performances they intended a full body/mind cultural experience for their students, and not just academic exploration. After the Will Connell Sextet finished a performance of trombonist Lorenzo Gardman's "Dion," Tapscott commented,
Every now and then you get a taste of what be happening within the community. All of this is music from the community. This music here and these brothers here, you don't hear them in the nightclubs anyplace. You hear them at the playgrounds, at the kindergartens, in college, in garages. But that's where everything is being created.... This is straight-in, creative music by black composers. This one happens to be alive and well and standing right here in front of you. And you don't have to wait until he's gone, not that he's leaving, before you dig who he is. This is Lorenzo Gardman, and he's a nation builder amongst the rest. [22]
UGMAA hoped to inspire students to develop their own artistic inclinations, to become cultural activists or at least deeper appreciators of the artists and art of black culture. They accomplished this through a multi-dimensional approach to class structure, tailoring pedagogy to serve the fullest expression of each topic and artist under consideration. This included: profiling UGMAA artists; guest appearances by many of those members (including musicians, poets, and visual artists) and others involved in community cultural work; appearances by nationally prominent artists; live performances in every class, sometimes with student participation in chants; presentations on jazz history from bebop to the present; lectures on the evolution and continuity of black music from West Africa through the spirituals, blues and jazz; poetry readings of the work of black authors living and dead; slide shows of historical figures and current events; role playing; question-and-answer sessions; and, announcements of relevant performances and events taking place in Los Angeles and Riverside, at times even arranging transportation to the events. Students were not expected to be passive.
The class was also seen as an opportunity for students to interact with artists and to gain an appreciation of them as people, as well as for the sources, reasons, and purposes of their art. They were routinely encouraged to approach and question Tapscott and the others, to "jam" them. Tapscott explained to one class, "I was approached last week about Black Arthur. There was some people who wanted to know some things about Black Arthur and why he sounded like he sounds. And some could not seem to have grasped the message.... But if you at least try to give it a lesson, understanding, and so by having the musicians here and you can jam 'em some kind of way. You can't guarantee the answers you get or anything, but they will be true." [23]
Students were encouraged to contribute their own art work of whatever genre. As Tapscott told one class:
Are there any people here that are writers of some sort? Play writers, playwrights that is. Music writers, poetry. 'Cause we acknowledge that and we would like for the others in the room to know those of you who have this gift and this is the place to showcase it, if you have some writings. 'Cause I know there are some people in here that got a lot of hidden treasures inside all that quietness and that beauty, behind all of that. You might have something to say about the black parts that hasn't been said in here. Or you might know of some brothers or sisters that you think should be here. If so, just let me know and we'll acknowledge it. It's not the kind of thing that we just monopolize the whole thing. But the idea is to get into your heads, as well as into the rest of the peoples, that we are here for the people and that we are of-the-people kind of Arkestra. Like you hear the British Philharmonic that belongs to the people. Well, the Pan Afrikan Peoples Arkestra belongs to the Pan African people, and that means it has to have all kinds of support. [24]
Aside from participating in activities both within and outside of class, students were also given a series of written assignments with two focal points. The first papers were to respond to what the students witnessed happening within the black arts at the time, considering the movement's strengths, weaknesses, contributions, and tasks that still lie ahead. After announcing an upcoming performance of the Arkestra at Widney High School in Los Angeles, he told them, "Don't come there thinking about looking for writing a thesis. Just come there to enjoy the music and the poetry. And after you go home that night, then you can do what you got to do on it." [25] There were no examinations. As Tapscott told one class:
They said they was going to have some kind of exam. But, see, I told them I couldn't have an exam from this class. I don't have no dates. We're not talking about dates; we're talking about now.... Your paper is the exam here. What I was telling you to write about black art, your thoughts about it, and how to improve on it, and what's wrong. You know, just ideas. Because you know, it wouldn't be fair and you can't even begin to give an exam. We don't even know the answer yet. So, I couldn't ask no questions. So this won't be part of the exam. They would file this under research. This is called research. [26]
A second group of paper assignments involved writing about a number of recommended black musicians and composers, researching their histories and contributions, and considering the question of why they had not received the attention, if not accolades, they deserved. The list included R. Nathaniel Dett, W.C. Handy, Rosamond and James Weldon Johnson, Max Roach, William Grant Still, McCoy Tyner, Fats Waller, and John Work. Tapscott explained:
I would like for you to see in your report about these musicians...why they weren't as well-known as they should have been probably. Was it because of the scene that was around, what era that they were in, what was the politics, I guess. Was it because of the politics that the music kept hidden, and now today you're just hearing more about it. Can you relate it to the black musicians of today. You know, that kind of research, something meaningful, as well as the works that they have done....
So...when you do write of these composers, I wish you would write more of the composer as a person and not as an assignment to do, but something that you would really like to find out about, that needs to be found out about. And perhaps you could pass it on. Maybe it might be an answer in it for you in some kind of way. [27]
During the final class of the semester, with all of the papers submitted, Tapscott expressed his wish that the research and writing have a larger impact on their lives, that it transcend the classroom and become part of their core values: "I just hope it wasn't just papers. You know what I mean? That you just lived like that." [28] Then Tapscott's trio, with David Bryant on bass and Everett Brown on drums, performed selections from the music and composers that students had written about in their assignments, giving further validation to the students' work and also demonstrating, in the trio's inimitable way, how fresh the music continued to be.
The Academic Year Unfolds
Most of the classes were in the morning, and for Los Angeles-based UGMAAgers, it meant an early rise and a long drive. As the visual artist and projectionist who assembled images for each class, the technician who provided tapes and records to play, and the archivist who tape-recorded each class, Michael Wilcots's presence was required. He recalls, "Horace would come by the Vernon house at seven o'clock in the morning, and we'd make that long trek to Riverside, all half-asleep and tired. Sometimes we had two car loads." [29] Thanks to Wilcots's diligence, most of the classes were preserved on reel-to-reel tapes. A few classes are missing from the archive, and not all taped classes are complete: some start after the class has begun, and others cut off before the end of the class. Nevertheless, most of the sessions were documented. The sound quality ranges from good to excellent; the purpose, structure and method of the sessions are clear; and, some wonderful UGMAA music and poetry, previously unavailable, is preserved.
Of the classes in the Horace Tapscott Archive, the following is a list of the main theme or approach of each:
February 3* - Arkestra bassist David Bryant
March 2 - Arkestra pianist/vocalist/composer/poet Linda Hill and trombonist Lester Robertson
March 7 - Actor, UGMAA member William Marshall and black poets
March 29 [probably 28 or 30] - Arkestra saxophonist Black Arthur Blythe
April 4 - UGMAA chanting with Linda Hill
April 6 - Chanting continued and the Black Arthur Trio
April 11 - The Life and Music of Arkestra pianist/composer Herbert Keith Baker
April 13 - Recordings by UGMAA supporters Elaine Brown, Stanley Crouch; Herbie Baker tribute continued with Mr. and Mrs. James Otis Baker
April 18 - Composer R. Nathaniel Dett, and UGMAA pianist/composer Nate Morgan
April 20 - Nate Morgan Trio
April 24 [probably 25] - Black Music from Charlie Parker to Ornette Coleman, Andrew Hill
April 27 - West African music; the Will Connell Sextet
May 4 - Spirituals; Horace Tapscott Trio
May 9 - Black Composers Then and Now: R. Nathaniel Dett, William Grant Still, McCoy Tyner, Max Roach and Abbey Lincoln
May 11* - John Coltrane
May 16 - McCoy Tyner, R. Nathaniel Dett; black poetry
May 23* - [no information available]
May 25* - UGMAA member Walter Winn, painter, drummer
May 30 - Herbie Hancock; Charlie Parker and the evolution of bebop; the New Art Jazz Ensemble
June 1 - Music suggested by student papers as performed by the Horace Tapscott Trio
[* indicates tape that Isoardi had initially catalogued while working through Horace Tapscott's archive in his garage, but that subsequently was not available in the Tapscott Archive at UCLA.]
Arkestra matriarch Linda Hill before March 2 class at UC Riverside.
Photo by Michael Dett Wilcots.
During the four months of the class, various members of UGMAA and the Arkestra were profiled. The first class on record focused on UGMAA bassist David Bryant, a high school friend of Charles Mingus, a veteran of the Central Avenue scene of the 1940s, and a founding member of the organization in 1961, when it took the name of the Underground Musicians Association (UGMA). A class followed on UGMAA vocalist, poet, pianist, composer, and matriarch Linda Hill and trombonist Lester Robertson, also a founding member, which featured Hill's singing and Robinson's intense trombone solos in "Motherless Child," Arthur Blythe's "For Fats," and Hill's "Little Africa." As it was one of the first classes, there was time devoted to administrative issues, but also to motivating students to attend performances in the various black communities and to support black arts and artists. "The only thing you really have to do," Tapscott explained, "is to support black artists or any artists, but black artists particularly because they're the ones that need the help. They need the help. And I don't mean on the style like B.B. King being supported. I mean by listening and understanding. 'Cause black artists don't need too much money. They done got over the hump. They know how to live." [30]
Since the mid-1960s, actor William Marshall was involved with the arts in Watts and had formed a close association and friendship with Tapscott and the members of UGMAA. They frequently performed together, and when Marshall was asked by Capitol Records to record an album of black poetry, he secured the musical backing of the Pan Afrikan Peoples Arkestra. For My People was never issued, but the album was recorded and Tapscott featured it in his March 7 class, and, again, on May 16. The class heard Marshall, in his stunning bass-baritone voice, read poems by various black authors, including Sterling Brown's "Old Lem," Langston Hughes's "The Weary Blues," "Lady's Boogie," "Boogie: 1 a.m.," "Harlem," and Margaret Walker's "For My People." When the tape ended, a subdued Tapscott simply explained to the class: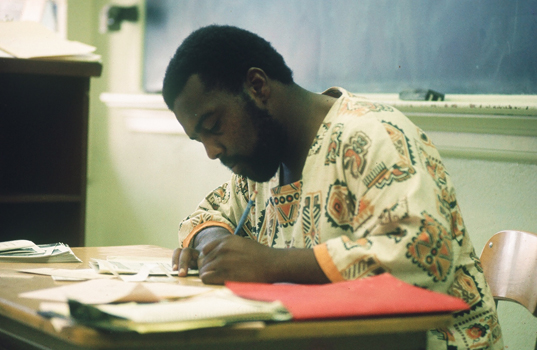 Arthur Blythe at UC Riverside class, 1972. Photo by Michael Dett Wilcots.
If you keep on doin' what you're doin', if you get more interested in black art, I mean for the sake of good music and good art, and support all the things that are happening that you can, and encourage the youngsters, that that's what they're here for, to keep the music alive.... If you could do that, then the little old time we did have made a big difference in hearing and not hearing, seeing and not seeing, or feeling and not feeling, or being, period. [31]
The class devoted to alto and soprano saxophonist Black Arthur Blythe involved his trio (Roberto Miranda, bass, John Blue, drums) performing live throughout the class, as well as Linda Hill's poetic offerings, usually over the music, and even a brief free verse reading by Tapscott on Blythe's supportive family. There was no narrative exposition, no announcements, as one piece moved into another, combining offerings in an artistic portrait of one of the most distinctive instrumentalists in jazz. Through the intense music of this inspired trio and Hill's accompanying poetry, the class would learn of Arthur Blythe, of the power and purpose of his art and vision.
Black Arthur
Blackness flowing, feeling, being
Soft, sweet black sounds
Black Arthur
Arthur Murray Blythe of San Diego
San Diego Fats
Soprano sax, life-giver, life-liver
Willing to be unknown
Black Arthur
Formerly Arthur Murray Blythe
Now passed on into the wilderness of North America
The essence to emerge
Black Arthur, Black Arthur
Dark light, sweet bright, blackness
Black Arthur Murray
Arthur, Arthur, Arthur
Black — Arthur
Sure mess a nigger's mind up, Lord
[32]
Another poem on Black Arthur was followed by Linda Hill paying tribute, partly through Arthur's words, to Arkestra drummer Leroy Brooks, once described by Stanley Crouch as playing "like Elvin." [33] Brooks's suicide a few years earlier had been a devastating blow, still felt by members of the organization.
Arthur, standing there looking all serious.
He said, "Man, I was so shocked when I heard about Leroy. You know Leroy Brooks, Junior, the drummer? 
Man, I was so shocked when they told me the brother had committed suicide, man. And this was a strong brother. 
I mean this brother was strong."
I said, "What? He committed suicide, man?"
"Man, this cat is a hero. This cat is a giant. There's going to be a whole lot of people ain't going
to know about this brother. Like maybe it ought to be some kind of way to let the people know about the heroes that 
have gone. Like some kind of song or some kind of funeral for all of the warriors, all of the warriors. Because the 
brothers, they be strong and they be going out."
A recording starts of the Arkestra and the Voice of UGMAA performing Tapscott's dirge "Warriors All." With Black Arthur's searing alto soaring above the ensemble, Hill continues,
It was a clear day when they took his casket out of that car and put him down into the ground.
And when they put the dirt over him, I knew he was gone.
It was a bright, warm day. Somewhere folks was laughing and playing, but my son, my son was 
gone. And he didn't have to go. Lord knows, he didn't have to go. But he went alone.
All his friends, all his relatives, there wasn't nobody there by his side. And they still run around
talking that black talk to me now.
Let the blood run black and sky turn green when the heart of my brother is no longer seen.
Let my faith be a raisin to wither and die when the mind of minds dwell in a lie. Should my seed
be fertile, let it dry up.
Let my love be bitter. Let it be bitter for the drinkers of this cup. May my son stop being and my
daughters turn to grass to be walked on, unseeing, to be barren, to be past, in this chaos, in this chaos 
of mistrust where love is a bauble and truth turns to rust.
Tear down the light, cast out the arms of darkness. No star shining bright. For it's gone.
This love is gone. This people is gone. A whole race of people, a whole nation, faithless, separate
from each other and apart, and the heroes go down with the blood running from their heart.
Let the blood run black. Let Arthur say it loud and clear.
The brother was strong, man. All the brothers be strong. All of 'em are warriors, but they all go
down alone.
We got to get this shit together and end this song.
After a performance of Blythe's "For Fats," the quartet dug into Ornette Coleman's "Focus on Sanity," while Hill contributed another piece, which finished:
One day, from one to another
We're going to be whole
And what we goin' to be doing
Well, that's just what we'll be into
One day, and look up
It ain't going to be a moment too soon
You can focus on sanity and get your vision blurred
You can bear down on your spirits and get a sad return
But one day, all this bullshit going to be torn loose
And all of them doors going to be opened
And for your sons and my sons
One day, ain't going to be one day too soon
Ask Black Arthur, he can tell you
That's Black Arthur
[34]
A class on Arkestra saxophonist and copyist Will Connell featured Connell's sextet in live performance. The militant, politically conscious work of vocalist and poet Elaine Brown, then also emerging as one of the leaders of the Black Panther Party, was presented in the form of her first LP, Seize the Time, an album released in 1969 (Vault 131, CD reissue Water 183), arranged by Tapscott and backed by the Pan Afrikan Peoples Arkestra. Visual arts were regularly on display by UGMAA artist and archivist Michael Wilcots. Most classes featured Wilcots's slide shows of art, the Arkestra in performance, news events, and/or material relevant to the theme of each session. One class offered the work of UGMAA visual artist and drummer Walter Winn.
Arkestra pianist and composer Nate Morgan was featured over two classes. During the first, Tapscott spoke of Morgan and performed a solo rendition of Morgan's "Black Woman," a favorite of his. Two days later Morgan brought his band for a live performance, and during a question-and-answer period, articulated aspects of the UGMAA worldview. Morgan was asked where he preferred performing: "I just like to play for my people wherever they happen to be at. It don't matter." Considering compositional inspiration, he clearly articulated the UGMAA bond with the African American community: "Well, all I want to say really is I haven't gotten over the way Horace played 'Black Woman' yet. But that's one of the compositions I've written, and I write as a reaction to how I live. But really things that I have so-called written are really things that my people have written, and I've just interpreted through my music. So, everything I do is my reaction to you, more or less." When asked what he hopes from an audience, he responded: "Respect.... I think the person that shows the most respect are those that are really into the music, deeply feeling, so they will know when to react and how to react like in certain passages when the music is going a certain way. That, to me, is the most respectful thing, if they can follow where you're going. If they can dig everything that's happening, that's the most respectful thing that I can think of." [35]
Portrait of a Community Artist — Tribute to Herbie Baker
Perhaps the most moving week of the year was the two-class tribute to seventeen-year-old pianist, bandleader, and composer Herbert Keith Baker, who was killed in a car accident early in the morning of June 15, 1970. As perhaps the most promising artist of his generation to emerge in south central Los Angeles, and one of the most beloved, his loss was a devastating blow. In many ways this tribute was yet another memorial, another attempt by UGMAA to come to grips with their loss, as well as cement Baker's memory and work. It also revealed Tapscott at his most expansive, as he wove the details, artistry, passions and values of Baker's life into an epistle on the community arts and artists.
The first class on April 11 featured performances of all of Herbie Baker's compositions. A tape recording was played of "Prance Dance" and "J.O.B." performed in concert by the Herbie Baker Quartet (Baker, piano; Gary Saracho, vibes; Roberto Miranda, bass; Steve Solder, drums). "Little A's Chant" and "Spaced" were performed in class by Tapscott on piano. The first part of Flight 17 (a suite in three parts) was presented via a taped performance of the Arkestra. "J.O.B.", "Little A's Chant," and the first movement of Flight 17 included poetry by Linda Hill. With Tapscott offering a somber medley of standards and spirituals, Hill introduced "Little A's Chant":
And so, a new day begins
An old night ends
It feels better this way, dying young
Chaos was running me down, Herbie used to say
Night after day, day after night
This ain't shit. I'm here and I ain't got nothin' going
Say, one day he asked Horace, he said
They gave me a college scholarship and I got to study under somebody. 
But the kind of music I want to play, I don't think they'd teach me. 
Is there some kind of way that I can study under you?
You know I got these things in my head, like I got a little sister named Sharon. 
Only she's always chanting something and it sounds like Little A's Chant. 
Somehow she reminds me of Little A cause she's always carrying the light, 
like she just went down to the river and got clean. And all this, it don't seem to bother her.
Here I am riding a painted pony, riding a sandpaper trip
If you can stay long enough for me to find a thought that will express itself
It's got to be, it's got to be natural to me
It's taken me two days to speak low
And I sit inside of all of this business, dormant, in a decayed way of being
This just tells me more of the same, no matter
I think I'll go listen to Little A Chant
She seems to know where the light shines anyway
Tapscott then transitions into "Little A's Chant" and Hill sings the words she wrote for the piece, including:
Ever notice how a simple song can make you weep
When you hear it too, how close you feel to one who's gone
Little A knows, just hear her chant
Little A grows, a magic lamp
She can make your dreams come true
Little A knows a world of light
Shining throughout the lonely night
Love is waiting now for
Love is waiting now
She chants for you
[36]
The first movement of Baker's masterpiece, the intense, discordant, percussive suite Flight 17, follows. During the April 13 class, Tapscott commented,
Flight 17 is the kind of music that if any of you have ever heard John Coltrane's Ascension, well it's that type. You ascend when you become a part of it. You come to a higher level in the cosmic. And all of you have witnessed that within yourself. It's the kind of a thing that you probably wouldn't talk about to somebody else because they'd think you're pretty weird or you're using some kind of drugs, but it's not so. It's just as your parents and the grandparents did when they got on their knees to pray, when they believed in prayer, and some folks believed in meditation, these things that bring you closer to a supreme being. And all of us believe there is that. And this is where Herbert Baker was. [37]
After Tapscott's piano introduction, the full, bottom-heavy Arkestra enters and Hill rides the up-tempo, aggressive ostinato sounds of the opening movement of Flight 17:
Sounds, bolting out of caverns of black
Flying out and up into
Searing sounds, scorching sounds, sheets of sounds
Free, full, satisfied
Triplets of rain drops
Exploding from sounds
High into the air
Running footprints
Laughing, laughing, crying, trying,
Thanksgiving
Colors flashing, thunder crashing
Running together, merging, mating,
Vivid life forms giving life beyond sight
Colors running down, over, under, into
Colors splashing, racing madly to each other
Crashing into itself, loving, giving, living
Colors of sound, sound of colors....
During the second half of the class and continuing into the next, two days later, Tapscott extended himself more than in any other. He spoke for over an hour and a half and was at his most eloquent, deftly and movingly weaving together the details of Baker's biography, stories from his life, thoughts about his musicianship, and placing the young artist and his legacy within the context of the history and needs of the black community and its artists.
He was a pianist and a composer, and an everyday high school student that you'd see on the streets or at school. But he had one thing that was special about him. He had been endowed with such a gift as a pianist and a composer. And for those of you who sometimes have listened to other pianists play, other giants, after hearing Herbert Baker, maybe you might not be able to understand how a brother, so young at the age of seventeen, had such mastery of the piano and music. His playing was very mature. It's not that of the so-called run-of-the-mill teenager, a good pianist. He was an excellent pianist, an excellent musician....
...He had a wide open mind. His scope was very large. He was always willing to learn something. He was always ready. He never did get a big head on him that he thought he was this or that, but we all knew that he was excellent. And it's a drag [pauses, gets his breath, clearly emotional] for a brother so young, he didn't get a chance to do anything, but he did quite a bit. [38]
He returned to this theme during the second class:
At seventeen years old his music, his piano playing, was equal to that of an accomplished musician at the age of forty or even older. Like I said before, his taste and his touch on the piano was all his own. When you heard Herbert Baker, you knew that was Herbert Baker. You wouldn't say is that Thelonious Monk or Chick Corea. You would just ask who is that. Well those of you in this class have heard some of Herbert Baker and you'll hear some more of him again. And I should hope that you would be able to recognize and the idea of this is don't wait until death comes before you recognize what you have next to you, sitting next to you, across the hall from you, or laying beside you. [39]
To Tapscott, Herbie Baker was an exemplar of the kind of artist and artistry that UGMAA celebrated and that they were presenting to the class in session after session. "So this is more or less a profile of a young warrior because his music is so-called revolutionary. It's thinking music." And because of this, it must be preserved and absorbed by people in the community today. "So the thing to do now is to be in the concert halls or out in the parks or in the streets, somehow getting to the community.... [O]ur emphasis is on the unknowns, and we'd like for them to become known at least to the people that are close to them. And Herbert Baker was definitely one of the greatest unknowns ever known." [40]
Tapscott included other UGMAA artists among the great unknowns, such as Black Arthur, Roberto Miranda, and John Blue, who had performed for the class the previous week, and lectured on how to appreciate these artists and their importance in shaping social attitudes and future visions:
Now, I didn't get any kind of response, that is any kind of visible response, to your reactions to Black Arthur and his group, whether or not you appreciated it, whether it was seemingly too far out for you or whether it blended in with you or not. And that's very important. That's important to the artist as well, for them to stand up here and to play, and to try and get close to you. It's the kind of thing that has to work both ways.... You know, when they started, you did enjoy it, didn't you? I mean it wasn't academic or nothing that you had to understand what notes or what kind of scales they were playing. If you got some kind of a feeling from it, with the pictures from the slides, photos, depicting the sounds that was coming from the musicians and how it relates to you and the things that you see and hear every day. That's what the art is all about.
And there are a lot of times when it's said, well we can't stand up and listen to all that noise that they're playing. Your ears have been conditioned to hear Bach's chorales and perhaps something that's very conventional. Well, that isn't where the art stops, nor does it begin. The art is the thing that you heard the other day, for real. You know Roberto Miranda and John Blue and Black Arthur are very accomplished musicians, and it just so happens that they are still around. They're still here, and they still live in Los Angeles. They don't live in no fabulous places or anything. You can catch them on the corner, when you're standing on the corner....
Actually, if you don't stand on the corner or hang out, and if you're a so-called artist, then you don't have anything to play or to write or to paint about. You can't stay in the closet and call yourself an artist 'cause your thing is through and for the people. Through the performing arts, social change will come. Through the performing arts: through drama, music, dance, prose and poetry, literature of all sorts, if it has to do with what's happening now. [41]
For Tapscott, the arts can be a force for change only if black artists are closely connected to their communities. This is his source for understanding, perception, and creativity. "If you don't go to the source from where the music is coming from, you still won't have the truth. They have brothers out on Central Avenue and in South Park, in those pictures you see here of South Park, that know black music when they hear it. They know it. They might be drunk and high, and jiving and laying on the grass, but they know their music. See?" Baker drew from these sources and was an exemplar of this type of artist, and it was the responsibility of the class, of the audience to engage with his art and to learn from it. "We're back in the same boat again, unless you yourself learn to listen, learn to try to listen to things that are creative. So today, Herbert Keith Baker is your subject on creativity." [42]
The following class on April 13 opened with Elaine Brown's album Seize the Time and then Stanley Crouch's spoken-word LP Ain't No Ambulances For No Nigguhs Tonight (Flying Dutchman FDS-105). The second half of the class completed the tribute to Herbie Baker. Tapscott introduced Baker's parents, Mr. and Mrs. James Otis Baker ("J.O.B."), explaining that they would provide further insight into Herbie Baker as a person, and bring the students closer to the artist:
So today we would like very much for you to listen to some of the things, to get on the inside of the black musician, his home life, and then find out that he's not that very much different from yourself, with the exception that he was, like I said before, endowed with a divine gift, the witch doctor of the tribe, Merlin the magician type, the soothsayer, the musician, the artist, the people who foresee the future from the winds and the rain and the sun. And this is truly what this young brother was and is and shall be. [43]
Mr. and Mrs. Baker then spoke at length about their son, his rearing, training, likes and dislikes, personality, and soul. The session ended with Tapscott and Linda Hill leading the class in a chant.
"African American Classics" — the Tradition of Black Music
Like many black artists of his generation, Tapscott avoided the word "jazz" and instead referred to his compositions and the black music tradition as first "Afro-American Classics" and later "African American Classics." The UGMAA approach was to stress the historic cultural continuities of the African American tradition, and the strong connection with West Africa. The music and artists presented ranged from local artists to nationally prominent musicians, and to traditional Ghanaian musicians, from contemporary jazz to its earlier forms, from the blues and spirituals to music influenced by the Western classical tradition. It was all presented as part of a common foundation. The key evaluative criteria were its musical quality and, especially, the extent to which it honestly confronted and presented the black experience.
During one class, Tapscott read excerpts from a recent criticism of pop music by Tanzanian leader Julius Nyerere, which attacked African American soul music for its lack of political awareness, its passivity and submissiveness, and consequent service to pro-capitalist forces. [44] Against American critics, Tapscott defended Nyerere's critique and supported the African leader's view that there was other, more empowering black American music that should be supported:
They didn't know what Julius Nyerere was trying to do. They thought it was a slap in the face against Afro American music, but his ideas were that there is a music in America from black folks that shows that it does have something going for itself intellectually. The music that you don't hear on the radio. The music that you just heard here.... This music does depict a nation of people who can think for themselves.... I believe this is the root of it. This is the part that is hidden from society as a whole, naturally, because it does allow you to think. It allows you to do certain things. It allows you to create. If you're a carpenter or whatever, it allows you to think of something else other than what you'll usually be thinking of, like waiting for the weekend, for Friday night and Saturday night. It allows you to believe and become proud of yourselves. It's not the kind of music that's supposed to rip you apart, but it's supposed to bring you into a reality of what is really happening. So, naturally, the powers that be will not let this be played upon the air, or other things of that sort in the arts. [45]
His approach to presenting that history was stylistically broad, from spirituals and European-influenced work to blues and jazz, but selective in terms of artists. Considering the jazz tradition, one class was devoted to the evolution of the music from Charlie Parker through Ornette Coleman and Andrew Hill, emphasizing the continuities with black culture and the importance of these contributions as reflections of the black experience in the post-World War II era. Individual classes were devoted to the music of Max Roach, John Coltrane, and McCoy Tyner. In smaller segments he offered commentary on and music by Bobby Bradford and John Carter's Los Angeles-based New Art Jazz Ensemble, and Herbie Hancock. There was never a formal presentation of life histories or discographical surveys, though there were some recorded as well as live performances of the music.
The treatment of earlier black music focused on spirituals. During one week, two classes offered recorded and live performances as well as commentary from Tapscott on the role of spirituals in the lives of black people, particularly during the slave era. He explained the spirituals as "somewhat of an extension of the chants that the African people used to have during their different ceremonies," that gradually incorporated commentaries on slave life and, at times, messages that could not be stated openly in that era. The task Tapscott assigned the class was "to listen to some of the words that are going to be used in the spirituals. And if you yourself could understand what it was all about outside of this being a beautiful melodic thing happening." [46] Tapscott then played tapes of Max Roach and Abbey Lincoln performing spirituals in a Berkeley concert, and gave an in-class performance with Hill's vocals, David Bryant on bass, and Tapscott on piano.
Following this, Tapscott offered an example of the mythical figure High John the Conqueror, who inspired African Americans during the slave era and was the subject of many varied folk tales. One story of High John the Conqueror had caught Tapscott's imagination as a child, which he related to the class, and that same figure was the inspiration for the title track of Tapscott's first LP, The Giant Is Awakened.
Well, there is...a myth sort of thing, but it was an inspired kind of person that the black people used to use to help bring themselves together when they were depressed as usual, and this person was called High John the Conqueror. High John the Conqueror was a legendary figure that was sort of like a giant to free black people from all over the world. When they were asked who High John the Conqueror is and was, the older folks would say, "You are High John the Conqueror. High John the Conqueror is you. High John the Conqueror is that drive that makes you seek freedom. High John the Conqueror is that drive that keeps you aware of when you feel sick. He's also that drive that when you think things are gone and over with, he is the drive that brings you back to life, that inspires you to live, inspires you to bear the cross that you're carrying while you seek your freedom." High John the Conqueror is and was one of the biggest things that black people had amongst themselves. He was looked upon as a magician type, a god-like person who heard his people was in trouble from Africa and walked the oceans to free his people. [47]
There was also an emphasis on black composers outside of the blues/jazz continuum, who relied heavily on black folk material, but utilized forms derived from their study of the European classical tradition, artists such as R. Nathaniel Dett, William Grant Still, and John Work. Still and Dett, in particular, were important influences on Tapscott: Dett for his written legacy and Still for that as well as his mentorship. Tapscott first met Still while in junior high school, when the older composer attended a rehearsal of his school band and offered comments on an early Tapscott composition, "The Golden Pearl." Tapscott's later Ancestral Echoes, written for piano and symphony orchestra, and completed in the mid-1970s, carries Still's influence. As Tapscott explained to the class, these composers were important because they provided the foundation for generations of composers to follow. "Now you've just heard the black composer Elaine Brown of today. And you're becoming acquainted with the black composer and pianist Nathaniel Morgan of today. Now you'll listen to R. Nathaniel Dett, whose music is making all of this possible today, that made the music of the Elaine Browns and Duke Ellingtons, Nate Morgans, possible." [48]
For his classes, Tapscott played selections from the works of these composers, drawing his examples from the recently released LPs of Natalie Hinderas, titled Piano Music By African American Composers (CRI CD629), including Dett's In The Bottoms suite. Tapscott provided some biographical information, but what was important to him was the extent to which these composers drew on material that expressed black life. Introducing In the Bottoms, he observed, "R. Nathaniel Dett, being a black composer and doing as all black artists are supposed to do, his music is all written about the black lifestyle." Tapscott then proceeded to play each of the five movements of the suite, commenting on the aspects of black life that each presented, and concluding that writing about black people and "the times that they were living in" are "what art is all about. It's to depict the time you're in and the time coming." [49]
Finally, Tapscott drew on connections with West Africa, offering recorded traditional music of Ghana in one class. "I wanted to play something from Ghana, the original Ghana music. This is music by people in Ghana that have orchestras and chorus together and tribal music and so forth.... I'd like for you to hear at least a couple of the charts that they are doing in Ghana and how the music—those of you that were at the concert Sunday can see how the hook-up is, how closely the hook-up is in black music." [50] One class and a portion of another were devoted to chanting and a long piece of Linda Hill's inspired by the Yoruba orisha of motherhood and the oceans—Yemaya—yet still very contemporary in its emphasis on multi-racial harmony. Tapscott began, "During the time of this class, during the end of it, we use a chant to break away all the evil spirits so that our day coming be very, very, very beautiful. And so this takes the participation of every individual in this class. Your cooperation will help the things happen much better. So, the sister Linda Hill is going to lead you in the chant 'Woe, Woe'. Please sing the chant." As Hill started singing, Tapscott encouraged the class,
Tapscott: Sing it.... Chant it.... Let it out. It's cool.
Hill: Woe, Woe....
Tapscott: You better sing it, unless you want bad luck for the day.
Hill: Woe, Woe....
Tapscott: Don't mess with black magic. Sing it.
With the class involved in the basic line of the chant, Hill sings,

Yemaya
I submit my soul to you
I whose color is blue
For my sister white, for my brother of blue eyes
For my sister brown, for my brother all pain and size
Within our nation of many people
Within our nation of many feelings of extremes
Yemaya! Yemaya!
[51]
This wide-ranging overview of the black musical tradition emphasized a core of feeling, of quality, regardless of style. Whatever was seen as an authentic expression of black experience was deemed worthy. But not all black music was deemed meritorious, as was witnessed in Tapscott's defense of Nyerere's critique of popular 1960s stylings. This assessment of the black tradition was linked to a critical evaluation of the musical divisions within the black community, e.g. church music vs. blues and jazz, and the failure of some to appreciate and embrace quality in all the varied music within the black community. During his second class on the precocious young musician, he talked of Herbie Baker's involvement in the New Hope Baptist Church, the same one in which Tapscott was reared. He observed that Baker's music was never performed in his church and criticized this separation.
Horace Tapscott with students, UC Riverside, 1972. Photo by Michael Dett Wilcots.
In some churches, as most of you know, like in the Baptist churches and the Methodist churches and the Jehovah's Witnesses and all of those religions, some of the music is not being played because it supposedly depicts the devil. But that isn't true, of course.... If you listen very carefully from Saturday night to Sunday afternoon, there is very little difference in the beat. The difference is probably the words, of course, but you could dance to that music on Sunday morning like you dance to the music Saturday night. And I guess it all comes down to the feeling of it, what you're putting behind it. Well, this is some of the problems that the black musician has in his community. He would love very much to play where he was reared. [52]
Tapscott's historical presentations were, for the most part, brief, anecdotal, at times aphoristic, distilling an artist's contribution in a sentence or two and connecting it to the African American cultural tradition and the needs of contemporary generations. Tapscott was not an historian per se. His command over the details of the tradition was sketchy. Dates were imprecise at times, and the histories of the various artists and movements could blur. His brief sketch of the Billy Eckstine band contains a few inaccuracies about dates and personnel. However, the point of the music was always clear, the appreciation of its value, its importance in black cultural history, and its connections to Africa and the diaspora.
Conclusion
For Tapscott and UGMAA, teaching at Riverside City College and the University of California, Riverside was an opportunity to articulate their vision, to reach more young people, and to pull them into the community arts experience as participants, even activists. Hearing a band in class was important, but seeing and hearing them in the community was even more so. That kind of participation could be a door to greater understanding and involvement for the students, as supporters, organizers, and, perhaps, even as artists. Tapscott always considered these events as extensions of the class, and when few students attended, he let them know about it:
However, we did have a concert Sunday and there were a couple of people from here there. We're going to have another one on the 28th of this month, once again in Los Angeles. Once again I'm going to remind you. I'm going to remind you that you should support black art. I know you drive sixty miles to go shopping. You drive sixty miles to go cat and what have you. You can drive sixty miles to a concert, free concert. The only thing you have to pay for is gas or whatever. But you missed it. It was nice. It was very enlightening in many ways. And it's like the class continues during the concerts. Only you won't have a chance to fall asleep there, because the drums be off in your ears. [53]
In many ways, Tapscott's approach, his ethos and praxis, and that of UGMAA had its roots in West African cultural practices and represented a sharp contrast to Western pedagogy and its separation of mind and body. The centering of the arts within every communal event, as well as their inclusive participatory nature and learning by immersion pedagogy, were cornerstones of traditional cultures that were also fundamental to UGMAA. After reading the manuscript of the history of the Arkestra, The Dark Tree, Nigerian poet and novelist Chris Abani noted that Tapscott struck him as completely African. [54] Arkestra and former Los Angeles Philharmonic assistant principal French hornist Bob Watt recalls his first encounter with Tapscott and the band at a recording session in the early 1970s and the strength of that feeling:
There was this sense of "we have something here," and it was like nothing I'd ever experienced. It was just this sound; some people call it a wailing sound, but it was definitely a different world, very African feeling to it. It was a different temperament. He didn't want some things too well in tune, certain things. He wanted certain sounds and gave it this kind of something that would reach deep into you and give you this long ago, far away feeling of—ah—this is bone-shaking music; this is something special. And you could see it in his face, when he was getting the sound. "That's it. Don't worry. Feel it." And the music was such a different thing.... The feeling I got was "we've been waiting for you." It's like you've died and gone to heaven and they all know your name. I walked in and there was that feeling: "This is where you belong and there's your seat." [55]
Most of the UGMAA events and Arkestra performances were in Los Angeles, particularly the regular Sunday afternoon concerts at Widney High School, and some on public television. But their prominence in the Riverside community and colleges also lead to regular performances by the Arkestra there, outside of the classroom. Pianist Bobby West, then still a high school student, made his performing debut with the band at one of those Riverside gigs a few years later and came away with a profound understanding of the art and of UGMAA's approach to it:
We went to the University in Riverside and that was the first road trip I took with the Ark. I had a chance to ride in one of the several vans in the caravan. This was just before I went to Grambling, to college. I never will forget, the song was "Stolen Moments." We walked to the stage and Horace said, "'Stolen Moments'. Bobby, you're going to play." The full Arkestra at a very large turnout at UC Riverside, I'm totally petrified. At the same time, I said, "Well, thanks Papa for making it a minor blues."
I remember as I sat on the piano stool for that first time, I never will forget the look of encouragement I got from [tenor saxophonist] Fuasi [Abdul-Khaliq]. It was wordless, but it was such a comforting nod from him and from [trumpeter] Steve Smith, a very young, skinny Steve Smith at the time. And, of course, everybody else didn't look at you at all, as though you were about to do what was expected of you. I don't have much of a memory of how I did, but afterwards everyone told me that I did a good job and none was more emphatic and demonstrative than Horace.
Amazingly, I wasn't pumped up by it. It really humbled me, more or less like "now you must become serious." Papa knew what he was doing.... I'm sure he knew that he gave me what I could handle. I was humbled by his support, which said, "Well now, Horace Tapscott smiled at you and said you did a good job, and you've played with the Ark for the first time." Rather than walk around saying "Yeah! Yeah!," I actually became more introverted and reclusive, because I realized now you can't fake this. I was more concerned about being revealed as a guy who was not the real thing. So, it actually humbled me, and I remember getting more involved with my studies than ever. [56]
Perhaps, there were some in the audience who had taken "Black Experience in the Fine Arts." And, perhaps, they understood what was happening as Bobby took his solo. If they did, they could not have derived more from any class.
With Horace Tapscott there were no boundaries between art and life, between artistic preparation and performance, between learning and involvement. He lived his life in the present with intensity and commitment. He never "experimented" with his music, nor his life; his engagement was total, without reservation. "Music's not a plaything, it's as serious as your life," to echo McCoy Tyner's comment to Val Wilmer. [57] Regardless of setting, whether he was performing in a concert hall, a park, before an elementary school class, in a neighborhood arts space, or a university lecture hall, his purpose never wavered, his commitment strong, as he sought to impart his and UGMAA's vision of the black experience and to energize his audience to meet the tasks for a better future. So it was at Riverside City College and, particularly, in the more comprehensive "Black Studies 1B — Black Experience in the Fine Arts" at UCR.
Tapscott and the brothers and sisters of UGMAA were not political revolutionaries, but cultural activists, who supported various social and political movements, ones they determined were working for the betterment of black communities. They did not become academics in their twice weekly classes. Their mission was not a distanced analysis of black cultural history. To the extent they presented historical figures, it was to rediscover grievously neglected artists, place them in a continuum to the present, and to absorb them into a contemporary, active culture, not simply offer them as objects of contemplation. Their approach was to immerse students in the community arts and not to academicize that experience. They transformed the classroom into a participatory, UGMAA learning and performance space, seeking to impart their worldview and mobilize the class as participants, not just university students, in their offerings, to place them in the midst of the black community, and hopefully transforming them in the process.
References
Many thanks to the Tapscott family for their support, to Kamau Daáood, Matt Duersten, Jeannette Lindsay, Michael Fitzgerald, and three anonymous readers for their comments on earlier drafts, to Gordon Theil, former head of the UCLA Music Library for his excellent work with the Horace Tapscott Archive and endorsement of this project, and to Eric Milenkiewicz, Archivist at the University of California, Riverside, Special Collections and Archives for his quick and diligent research.
[1] See, for example, John F. Szwed, Space Is the Place: The Lives and Times of Sun Ra (New York: Pantheon Books, 1997); John Sinclair, ed., Sun Ra: Interviews and Essays (London: Headpress, 2010); Lincoln T. Beauchamp, Jr., Art Ensemble of Chicago: Great Black Music Ancient to The Future (Chicago: Lincoln T. Beauchamp, Jr., & Art Ensemble of Chicago Publishing, 1998); George E. Lewis, A Power Stronger Than Itself: The AACM and American Experimental Music (Chicago: University of Chicago Press, 2008; Ronald M. Radano, New Musical Figurations: Anthony Braxton's Cultural Critique (Chicago: University of Chicago Press, 1993); Steven L. Isoardi, The Dark Tree: Jazz and the Community Arts in Los Angeles (Berkeley, CA: University of California Press, 2006); Benjamin Looker, BAG: "Point from Which Creation Begins": The Black Artists' Group of St. Louis (St. Louis, MO: Missouri Historical Society Press, 2004); Eric Porter, What Is This Thing Called Jazz? African American Musicians as Artists, Critics, and Activists (Berkeley, CA: University of California Press, 2002); and, Iain Anderson, This Is Our Music: Free Jazz, the Sixties, and American Culture (Philadelphia, PA: University of Pennsylvania Press, 2007).
[2] Horace Tapscott, Songs of the Unsung: The Musical and Social Journey of Horace Tapscott, ed. Steven Isoardi (Durham, NC: Duke University Press, 2001).
[3] Daniel Fischlin and Ajay Heble, "The Other Side of Nowhere: Jazz, Improvisation, and Communities in Dialogue," in The Other Side of Nowhere: Jazz, Improvisation, and Communities in Dialogue, ed. Daniel Fischlin and Ajay Heble (Middletown, CT: Wesleyan University Press, 2004), 3.
[4] George Lipsitz, "Songs of the Unsung: The Darby Hicks History of Jazz," in Uptown Conversation: the New Jazz Studies, ed. Robert G. O'Meally, Brent Hayes Edwards, and Farah Jasmine Griffin (New York: Columbia University Press, 2004), 17.
[5] Sun Ra's lecture of May 4, 1971 survives and is available on Transparency's The Lost Reel Collection Volume One — The Creator of the Universe (CD #0301). One musical event is extant, in Cecil Taylor's Indent (Freedom FCD 41038), a live performance from March 11, 1973, recorded at Antioch University during his tenure there.
[6] Martha Biondi, The Black Revolution on Campus (Berkeley: University of California Press, 2012), 2, 34, 144, 211, 233; Ibram H. Rogers, The Black Campus Movement: Black Students and the Racial Reconstitution of Higher Education, 1965–1972 (New York: Palgrave Macmillan, 2012), 156–58; Fabio Rojas, From Black Power to Black Studies: How a Radical Student Movement Became an Academic Discipline (Baltimore, MD: The Johns Hopkins University Press, 2007), 32, 40–42,53,94–95,100–03; Maurice Jackson, "Toward a Sociology of Black Studies," Journal of Black Studies, 1:2 (December 1970): 134; and, Boniface I. Obichere, "The Significance and Challenge of Afro-American Studies," Journal of Black Studies, 1:2 (December 1970): 165.
[7] N.H., "A Torch to Burn Down a Decadent World," The Black Scholar, 2:1 (September 1970): 4.
[8] Horace Tapscott Quintet, The Giant Is Awakened (Flying Dutchman FDS-107, CD reissue West Coast Hot RCA Novus Series '70, 3107-2-N); Elaine Brown, Seize the Time (Vault 131, CD reissue Water 183); and Sonny Criss, Sonny's Dream (Birth of the New Cool) (Prestige OJCCD-707-2 [P-7576]).
[9] Kafi Roberts, interview by Steven Isoardi, June 19, 2000.
[10] Vicky Roberts, interview by Steven Isoardi, October 30, 2003.
[11] Michael Dett Wilcots, interview by Steven Isoardi, November 10, 2001–April 20, 2002.
[12] George Quant, e-mail message to Steven Isoardi, October 20, 2009.
[13] Ibid.
[14] Kamau Daáood, e-mail message to Steven Isoardi, October 11, 2009.
[15] Michael Dett Wilcots, interview by Steven Isoardi, November 10, 2001–April 20, 2002.
[16] Amina Amatullah, interview by Steven Isoardi, December 2 and 19, 2000, January 20, 2001.
[17] Michael Dett Wilcots, interview by Steven Isoardi, November 10, 2001–April 20, 2002.
[18] Butch Morris, interview by Steven Isoardi, September 3, 2001.
[19] Michael Dett Wilcots, interview by Steven Isoardi, November 10, 2001–April 20, 2002.
[20] University of California, Riverside, General Catalog 1971–72, 161.
[21] Audio recording made by Michael Dett Wilcots of Horace Tapscott's The Black Experience University of California, Riverside class of April 6, 1972, Box 72, Horace Tapscott Jazz Collection, 237, Performing Arts Special Collections, University of California, Los Angeles.
[22] Audio recording of class of April 27, 1972, Box 70, Horace Tapscott Jazz Collection.
[23] Audio recording of class of April 18, 1972, Box 72, Horace Tapscott Jazz Collection.
[24] Audio recording of class of April 11, 1972, part 3, Box 72, Horace Tapscott Jazz Collection.
[25] Audio recording of class of March 2, 1972, Box 72, Horace Tapscott Jazz Collection.
[26] Audio recording of class of March 7, 1972, Box 72, Horace Tapscott Jazz Collection. Emphasis his.
[27] Audio recording of class of May 9, 1972, Box 70, Horace Tapscott Jazz Collection.
[28] Audio recording of class of June 1, 1972, Box 70, Horace Tapscott Jazz Collection.
[29] Michael Dett Wilcots, interview by Steven Isoardi, November 10, 2001–April 20, 2002.
[30] Audio recording of class of March 29, 1972, Box 72, Horace Tapscott Jazz Collection.
[31] Audio recording of class of March 7, 1972, Box 72, Horace Tapscott Jazz Collection.
[32] Audio recording of class of March 29, 1972, Box 72, Horace Tapscott Jazz Collection.
[33] Stanley Crouch, interview by Steven Isoardi, November 29, 2000.
[34] Audio recording of class of March 29, 1972, Box 72, Horace Tapscott Jazz Collection.
[35] Audio recording of class of April 18, 1972, Box 72, Horace Tapscott Jazz Collection.
[36] Audio recording of class of April 11, 1972, Box 72, Horace Tapscott Jazz Collection.
[37] Audio recording of class of April 13, 1972, Box 72, Horace Tapscott Jazz Collection.
[38] Audio recording of class of April 11, 1972, Box 72, Horace Tapscott Jazz Collection.
[39] Audio recording of class of April 13, 1972, Box 72, Horace Tapscott Jazz Collection.
[40] Audio recording of class of April 11, 1972, Box 72, Horace Tapscott Jazz Collection.
[41] Ibid.
[42] Ibid.
[43] Audio recording of class of April 13, 1972, Box 72, Horace Tapscott Jazz Collection.
[44] In J.K. Obatala, "Soul Music in Africa: Has Charlie Got a Brand New Bag?" The Black Scholar 2:6 (February 1971): 8–12.
[45] Audio recording of class of April 24 [probably 25], 1972, Box 70, Horace Tapscott Jazz Collection.
[46] Audio recording of class of May 4, 1972, Box 70, Horace Tapscott Jazz Collection.
[47] Ibid. On High John the Conqueror see Zora Neale Hurston's essay "High John de Conquer" in The Sanctified Church (Berkeley, CA: Turtle Island, 1981), 69–78.
[48] Audio recording of class of April 18, 1972, Box 72, Horace Tapscott Jazz Collection.
[49] Ibid.
[50] Audio recording of class of April 24, 1972, Box 70, Horace Tapscott Jazz Collection.
[51] Audio recording of class of April 4, 1972, Box 72, Horace Tapscott Jazz Collection.
[52] Audio recording of class of April 13, 1972, Box 72, Horace Tapscott Jazz Collection.
[53] Audio recording of class of May 16, 1972, Box 72, Horace Tapscott Jazz Collection.
[54] Chris Abani, personal communication with Steven Isoardi, 2004.
[55] Bob Watt, interview by Steven Isoardi, January 18, 2001.
[56] Bobby West, interview by Steven Isoardi, August 24, 2001.
[57] Quoted in Val Wilmer, Mama Said There'll Be Days Like this: My Life in the Jazz World (London: The Women's Press Limited, 1989), 241.
Author Information:
Dr. Steven L. Isoardi is an oral historian and an adjunct professor at Antioch University. His works include The Dark Tree: Jazz and the Community Arts in Los Angeles, Central Avenue Sounds: Jazz in Los Angeles, and two edited jazz autobiographies, Jazz Generations (Buddy Collette) and Songs of the Unsung (Horace Tapscott). He is also a curator for the Interactive Jazz Museum at the soon-to-be-constructed Jazz Bakery in Culver City, CA, and is the organizer of the Double M Jazz Salon concert series at the Mayme Clayton Library & Museum, also in Culver City.
Michael Dett Wilcots is a visual and graphic artist, photographer and activist. From his arrival in Los Angeles in the late 1960s, he played an active role in the community arts movement, first as a founding member of the Universal Order of Black Expression, a collective of artists and arts enthusiasts. Since 1971, he served the Arkestra and UGMAA as artist, publicist, archivist, and more recently as UGMAA's Executive Director. His work was exhibited during 2014 at the Mayme Clayton Library and Museum in Culver City, CA. He continues to create art for, and share his expertise with, community members.
Abstract:
This article discusses the introduction of elements of black community arts into a classroom setting at the University of California, Riverside in 1972. Led by Horace Tapscott and including members of the Union of God's Musicians and Artists Ascension (UGMAA) organization, these classes put students in contact with active musicians, poets, and artists and also presented studies of music history and broader topics as interpreted by Tapscott. The class sessions were documented by Michael Dett Wilcots through tape recordings and photographs, and have been preserved in the Horace Tapscott Jazz Collection at UCLA.
Keywords:
Horace Tapscott, UGMAA, Pan Afrikan Peoples Arkestra, community arts, jazz
How to cite this article:

For further information, please contact: